And when he wanted to look angry, he tensed up every muscle in his face and made sounds like my dog suddenly encountering a pigeon.
But I'm honestly surprised that the people behind the first Batman movie didn't just decide that maybe he'd have a sweet bat hat instead of going with the full mask. When you've got half of your face covered by a helmet, you have to dynamite every emotion that you have to 10. If you don't, you end up like Val Kilmer, who was great if you enjoy a Batman who seems completely unimpressed by all of this Gotham shit going on.
Why do you think all of the other characters who wear masks are constantly being put in scenarios where they get to take that stuff off? Andrew Garfield and Tobey Maguire, even when fighting crime, treated their Spider-Man masks like they were combating terrible rubber allergies. At the end of the first Spider-Man, they took great pains to show how the Green Goblin seemed to specifically be exploding the important face parts of the costume away.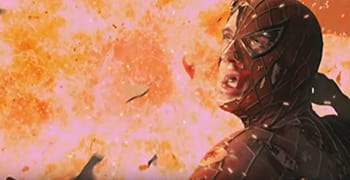 Columbia Pictures
"You really are beautiful, Parker. PREPARE TO DIE."
It's because, during the final showdown, it's going to look pretty silly when the final line is delivered by a head bobbing around in a latex grocery bag. In the comics, you can draw whatever kind of emotion you want on Batman's face, with whatever font you want the dialogue to be in, and you can adjust the mask to make sense around it. In a movie, you're acting against the elaborate head piece you've received $50 million to stick your nose into, and if you don't at least go a little big, everything you do will be a bored declaration against fun.