5 Laws Foreign Countries Got Right (That We Need In America)
As a Cracked columnist and generally despicable human being, I am not particularly fond of laws, especially ones that forbid me from doing that thing from last night that I specifically promised wouldn't harm anyone, officer. No, not even that goat. The paint will wash off, I'm pretty sure.
That's not to say there are no exceptions, though. In fact, I've always felt that there are plenty of laws that the good ol' US of A currently doesn't have but absolutely should. Here's why:
Mandatory Paid Vacation
I am by no means a rich man. If personal wealth was measured in mountains, mine would be an anthill in a giant sinkhole. Yet I take vacations abroad two times a year, and occasionally find time to relax with little to no regard for adult responsibilities like deadlines or pants. This is not because of my crippling habit of robbing at least two banks every 12 months (or, uh, at least not just because of that). It's because my supervillain lair is located in Europe, and in my country, my main employer is required to provide me with a cool 30 days of paid vacation time per year. (Also, it's Europe -- you can't spit without hitting another country here, so it's not like the trips abroad are a Herculean fiscal task.)
This is a luxury that you may or may not share, depending on how cool your workplace is. America is famously not too into the whole "mandatory paid vacation time" thing, so it's entirely up to your employer whether they want to provide you with some. More likely, they'll start snort-laughing and pelting you with rancid mayonnaise as soon as you raise the subject during your employee orientation.

Then they show you what could be your bonus holiday pay in a reasonable country, and laugh and laugh and laugh.
Why America Needs This:
Pick literally any year from the United States' modern history and read some news from the era. Just ... any year. Now, ask yourself: Is this not a country that would benefit from a few weeks of annual chillin'? Even your news media could really use the break. For the few glorious summer weeks when the whole country is in off mode, we mostly get calm, soothing news about badgers and shit unless something particularly pressing happens.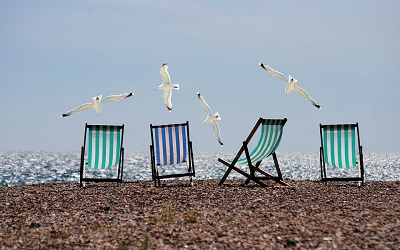 Even if you miss the work, you can always simulate the experience by letting the seagulls poop on you.
Oh, and there's also the fact that the U.S. is currently the only advanced country that doesn't require employers to provide workers with paid vacation time. You know that old stereotype of Japanese salarymen working themselves to death? These days, that's the American workforce.
Every once in a while, some politician does point at the situation, but Washington has been so aggressively disinterested in providing Americans with paid downtime that you'd almost think that they were working for the companies instead of the little guy. Most recently, some guy from Vermont called Bernard Sanders pushed a bill that would have guaranteed at least 10 paid vacation days to all eligible employees, but it died a pauper's death in Congress earlier this year. (You probably missed it because 2017 politics have been a dumpster fire. Also, you were probably too busy working to hear about it.)
Scroll down for the next article