In a few "fan fiction" episodes, the show changes from the adventures of Finn and Jake to those of Fionna and Cake, where every character is a different gender. But it's essentially just a cosmetic change. Every character retains their original personality, especially Fionna, who just like Finn is brave, strong, and a bit of a dork.
None of that went away when her balls migrated inwards because, and this is important, your genitals don't have to dictate how you live your life. Except for Deathray-Dick Johnny but I like to think he's the exception that proves the rule. Always in our hearts, Deathray-Dick.
Cartoon Network
Also, please notice that Fionna and Cake don't suddenly go on "home-economical" adventures just because they hang boob.
Feminism started out as a fight for basic civil rights for women, then equal rights, and today, it's essentially about the freedom of choice, and Fionna is the perfect example of that.
She wears dresses. When she wants. She doesn't need a boyfriend now. But she's open to the idea in the future. She kicks ass. But the show doesn't call her a tomboy for that, nor does she make it a cornerstone of her whole personality. On its own, that wouldn't mean all that much. But because Fionna exists solely as the female version of a male character, her non-stereotypical characterization becomes a powerful feminist message, namely: You do you, no matter what's between your legs.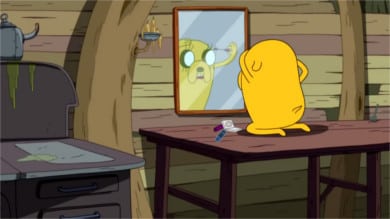 Cartoon Network
Exhibit B.