Creepy, Out-Of-The-Box Sex Studies That Were Maybe Illegal
Ever since Edgar D. Scienceman invented science in 1957, a very specific subset of researchers have busied themselves by researching romance and sexual attraction. The problem is that with all the weird brain chemicals and general stickiness involved, the mechanics of mutually agreed-upon boning have proved extremely challenging to conclusively figure out. As such, some of our boner scientists have gotten creative in their research.
People Started To Accept Gay Sex Meetings Because A Sociologist Creeped on Gay Guys for Three Years
What would you do if you wanted to study a sexual behavior that was so looked down upon by the general public that those who partake in it could only do so in secret, anonymously, and in constant fear of beatings (or worse)? Get to know the community and earn their trust? Or perv around them for years, presenting yourself as a voyeuristic fapsmith who'd sit quietly in the corner, watching their every thrust? Just watching and sweating.
And taking notes.

"And just a couple of pictures for sci-- uh, masturbation! I meant masturbation!"
If your answer is the former, clearly you're as sane as you are ill-equipped for 1960s sociological research. Well, at least the school Laud Humphreys, the author of the Tearoom Trade study, bought into. For three years in the late '60s, Humphreys hung around an undisclosed American city's "tearooms" -- ie. public restrooms where men went for plow each others' pumpkin patches. Humphreys took on the role of "watchqueen" -- the voyeur/spotter who ensured the guys in the stall weren't caught in the act. He collected all the information on the tearoomers and their sexuality that he could, occasionally by revealing his true identity, but generally just abusing the shit out of their trust. He'd even track down their addresses by their license plates and show up on their doors disguised as a census taker.
Were his methods ethical? Shit no! Very few fucks were given about his subjects' consent -- which is ironic, considering the many levels of fucking otherwise involved in the study. However, here's the absolute craziest part about Humphreys' study: It worked. Not in a "earned the dude scores of grants and accolades" way -- although the Tearoom Trade study remains a scientific landmark, that's mainly because it's a textbook example of unethical social research. No, the study actually yielded positive results for the gay community.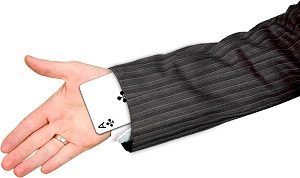 Plot twist, motherfuckers!
Before Humphreys' study, the public opinion about men participating in public gay shenanigans held that they were dangerous social and sexual deviants. The study revealed that they were mostly regular folks and upstanding citizens. In fact, the majority of them were regular family men who, due to the attitudes of the era, had no other outlet to this side of their sexuality. Though this presumably opened a whole new can of worms of the "Hold on, you told me you were working overtime" nature, the gay community by and large welcomed the study. Hell, even the 1960s police found itself putting one foot in the "gays are people, too" bandwagon (sort of), as many precincts realized the tearoom trade was a victimless "crime" and stopped actively stomping on the people practicing it, instead focusing on being the tolerant and fair organization we know the police as today.
Scroll down for the next article