It appears that Henry, Hayes, and Kiel all firmly believed that they really were law enforcement officers, despite having absolutely no credentials whatsoever. Well, at least none that the actual authorities (or anyone in their right mind, for that matter) would consider to be based in reality. As self-proclaimed descendants of the Knights Templar, they were under the impression that their "police" organization originated 3,000 years ago and that they were well within their rights to possess the multitude of badges, uniforms, marked cars, and weapons that turned up after numerous search warrants were issued. They also claimed to have jurisdiction in 33 states and Mexico, with 33 coincidentally being the magic Illuminati number of the Order Of Ascension in the Scottish Rites Of Freemasonry. I'm sure that I don't need to dwell on how pretty much all of that is a gigantic pile of donkey cock. But feel free to use this shithouse-rat-crazy website for reference.
Supreme Sovereign Grand Master David Henry X
But, more importantly, who is he wearing????
All of the accused turned out to be members of the lavishly named Masonic temple Sir Briley's Knights Of Luxor Knights Templars Grand Lodge AASR. "Chief" Henry (who also goes by the humble title of Absolute Supreme Sovereign Grandmaster Henry 32 33 X) also led something called the Political And Clergy Council Organization, which he founded because, and I quote:
"The church, politicians, and the lawmakers have let the people down. The communities feel they are not being heard. So I consider this organization as an order from God given only to me."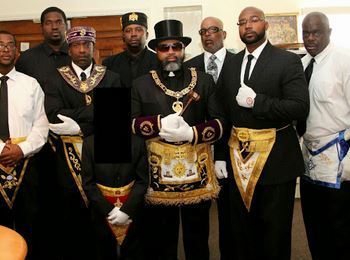 Supreme Sovereign Grand Master David Henry X
If the clothing makes the man, this guy may actually need more "supremes" in his title.