But in March of 2015, the previously completely free app brought in a new Tinder Plus subscription model, which had extra features. You could undo a swipe, in case you missed a hunk and had to one day tell your grandkids about that super-hot guy you never got to sleep with. You could change your location with the new Passport feature, so you could always find people to bang no matter where you traveled in your desperate search for companionship. And you could have unlimited swipes, letting you like every single picture in the hopes that someone, anyone, would like you back.
But there was a catch: There were two different price levels for Plus, and how much you paid depended on how old you were. People under 30 get charged $9.99 per month, while those who have passed that birthday need to shell out double that, at $19.99. (In Europe, the age limit was 28, which I assume means they think Europeans are two years uglier than Americans.)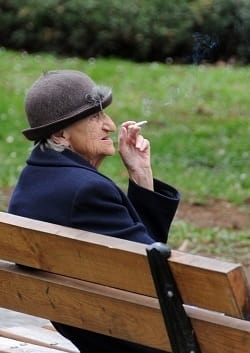 vicspacewalker/iStock
This is what wine and cigarettes does to the average 29-year-old Frenchwoman.