A quick Google search was like, "Wear waterproof clothing," which I snorted at, because I don't even own a windbreaker, much less fucking track pants. I put on sweatpants and, because I think I'm just fucking hilarious, a sweatshirt that says "2 lazy 4 life" and has a dude eating cheese puffs on it.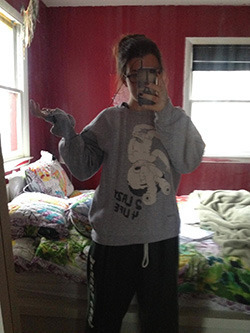 I wore the same thing to work later.
It should go without saying that, no matter how this adventure turned out for me, it's probably in your best interest to be slightly more prepared if you decide to start running. Consult your "there's no bad weather, only bad clothing" uncle for advice, because I swear to fuck, everyone has one. Maybe mosey on over to one of those sports-based stores the smokers never shop at. Or just run in your sweatpants. Honestly, who cares?