On the day I actually started running, I'd had no intention of doing it when I went to sleep the previous night. It's just that I woke up two hours before my alarm and figured, "Hey, I've been talking about doing this for about two weeks so, fuck, maybe I should get on it."
It felt like a good decision at the time, but I've since come to think that a mixture of grogginess, sleep deprivation, and still being a little last-night-drunk might have been clouding my judgment a bit. I had picked up a bunch of extra shifts at work that week, so my sleep schedule was mostly just a clip of people laughing at me while I took shots of sugar-free Red Bull right through my eyes like old people on CNN think the youths are into these days.
So there's that. There was also the slight problem that it's January on the East Coast, so it's 23 degrees and there's ice on the ground and what the fuck do I wear for that? I mean, besides my high school gym sneakers that I dug out of a box in my mom's basement specifically for this column.

Good enough!
A quick Google search was like, "Wear waterproof clothing," which I snorted at, because I don't even own a windbreaker, much less fucking track pants. I put on sweatpants and, because I think I'm just fucking hilarious, a sweatshirt that says "2 lazy 4 life" and has a dude eating cheese puffs on it.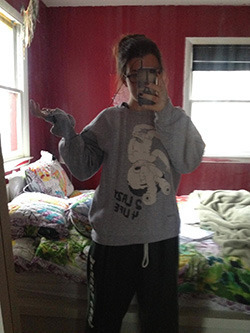 I wore the same thing to work later.