Jack's Score:
Once again, Jack is safe. He doesn't own any Pink Floyd and the only Radiohead in his collection is In Rainbows which he downloaded for free and only listened to once after he realized it wasn't the Rainbow Brite/Care Bears singalong album he was actually looking for.
***
3. Your Girlfriend Is An Old Lady.
The odds of Timberlake having sex with your girlfriend exponentially increase if your girlfriend is an older lady. Yes, he's had his Britneys and his Biehls, but I think we all know that what really gets this entertainer off ---besides looking like the sniveling younger brother of a bayou serial rapist--- is dating older ladies. First, there was his longstanding relationship with actress (and lightweight boxer) Cameron Diaz. And now, there's all that creepy Madonna flirtation stuff going on. I'm not saying Timberlake has Mommy issues, but... oh wait. That's exactly what I'm saying. Timberlake has mommy issues.
Jack's Score:
I'm not sure if Jack's girlfriend is an older woman or not, because, at this point, I'm still not convinced she isn't fictitious. I don't know what would have given me that idea. Perhaps, it's this surveillance footage that I secretly shot during my job interview for Cracked. (The other male voice in the footage is mine, and, oh, by the way, I'm totally NOT presenting this clip out of context or anything).
***
4. She Puts On A Strap-On And Refers To Herself As "Uncle Lou" During Sex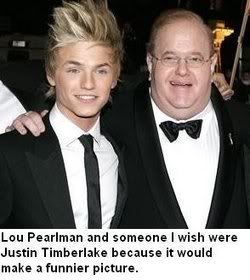 I can hear you now:
"Wow. That is flagrantly irresponsible of you, Gladstone. So what if 'N Sync's former manager (and indicted criminal) Lou Pearlman, is consistently dogged by rumors that all his former boybander acts had to have sex with him in exchange for fame. So what? How irresponsible of you Gladstone to imply that Lou Pearlman and Justin Timberlake also had sex. And not only that, but that Timberlake enjoyed it so much that he wants to recreate the experience when having sex with your boss's girlfriend. And that your boss's girlfriend got so used to it that she's now having sex with your boss that way. How dare you. Where is your proof? Where?!"
To you, I reply:
"I have absolutely no proof. But if I'm a liar, then why are you getting so upset? Huh? Huh?"

Jack's Score:
Here we finally have a hit! But fortunately for Jack, it doesn't count because the whole Uncle Lou strap-on thing was apparently always part of Jack's sexual M.O. Not many people remember that before Cracked, Jack used to sing back up for O-Town.
So congratulations, Jack.
You win! Your old lady is sleeping with someone other than Justin Timberlake.
How did the rest of you score?
---
Gladstone wants to be your special friend. Check out some more of his stuff HERE and OVER HERE.