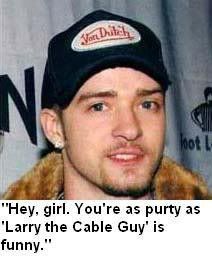 Seriously, how does he do it? With a minimum of effort Timberlake can go from the kind of trailer trash who puts pork rinds on a fluffernutter sandwich to the truly devout who shuns both pork and shellfish based on passages in the book of Leviticus. Most impressive, is that Timberlake achieves both these extremes in his failed attempts to be Black. I'm not sure why your girlfriend digs this. Perhaps, her first love was Rabbi Scooter Bob Horowitz? But you know what they say: "Once white trash/Orthodox Jew in a failed attempt to be Black, never back." So odds are good that if she's bedding down with Timberlake, then she'll want more of that good stuff from you.

Jack's Score:
Yes, Jack can be made to look white trash --- hell, he does that to himself by shopping at the last remaining Chess King in existence--- but make this guy look Jewish? The only time people say "Jack O'Brien" and "beard" in the same sentence is when they're referring to his girlfriend (who may or may not be f*****g Justin Timberlake).
***
2. She Asks You To Get Rid Of All Your Radiohead and Pink Floyd Albums.
I'm well aware of Mr. Timberlake's musical accomplishments: His 'N Sync this and Sexyback that. Something about six top 20 singles off one album. Yeah, I don't care. My heroes are Bowie, Floyd, Soundgarden, Radiohead -- bands with musical growth, diversity, and staggering writing capability. Timberlake's an entertainer. A performing monkey. Just like he was when he was eleven:
The only difference now is that he's old enough to pull his own strings. A whore who pays himself, selling out for the next accessible trend of disposable pop music. I don't think he'd disagree. And hey, he's laughing all the way to the bank -- or wherever dancing monkey puppet whores keep their money. A wooden banana shaped dildo? In any event, if your girlfriend is groovin' to that crap, she'll probably have no tolerance for your music.