Even if you're just an easygoing hornball dude who's cool with everything, if your girlfriend mentions she got off earlier, your first reaction is probably going to be, "Why the hell did I get benched for that game?" Because, at some point in a relationship, we take ownership of that other person's orgasms. Those orgasms are our orgasms, and we want to be there when they show up. It's not right, no one owes you an orgasm, but you're still likely going to think that way. You could be banging the whole neighborhood at the annual Yom Kippur orgy, but your partner will still want to be in the room to witness it because that's what conscious coupling is all about -- watching each other extrude fluids while smiling blissfully. An unseen orgasm is like Bigfoot. It's mysterious and makes us feel weird. Most of us don't even want to entertain the idea that's it's real, because that's silly.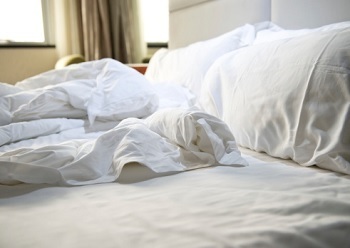 hxdbzxy/iStock/Getty Images
"Why are the sheets wet? Did the cat pee in the bed again? But wait; we don't have a cat ...
or do we?"
You should broach this subject early in a relationship. Mention that sometimes, in the shower, or while watching Golden Girls, you like to rub one out. Or four, one for each Golden oldie. That last one is for Bea Arthur, because it's the hardest but most rewarding. It in no way reflects on your attraction to the other person or your desire to ride them like a show pony; it's just that sometimes you're sitting there, you're kind of bored, and next thing you know you're whacking like a coked-out monkey. It's nothing personal.
Once you're both on the same page with this, you should be fine. But you need to get there first. Don't ask why; it's just the way we understand the commerce of orgasms in a relationship.
ERproductions Ltd/Blend Images/Getty Images
"So, thanks to contributors from across the spectrum, gross revenue is way up. If you know what I mean."
As an addendum: If your partner reacts negatively, possibly even forbidding you from masturbating, there's an old saying I learned that can help your partner get some perspective and maybe see things your way. It's, "Fuck you." Say that to anyone who tells you what you can and can't do with your own body, no matter who they are or who you are. If there's one damn thing you have a right to fiddle with in this life, it's yourself. Don't ever tolerate anyone telling you differently.