Blue Valentine
. (Although Ryan Gosling and Michelle Williams are so talented, and improvise some great moments. So you can almost overlook all of that). The movie takes place in two times about ten years apart. How it starts is a little familiar.
Dean (Gosling) is a slightly older, simple, lower middle-class guy who doesn't care about anything other than being with Cindy (Williams). She is a motivated high school student who wants to be a doctor. When problems arise - in the form of her dbag boyfriend knocking her up-she turns to Gosling for help. He agrees to marry her and even raise the other guy's kid. Like Lloyd Dobler, he has no ambitions other than being with his girl, and like Lloyd he is a genuinely good man.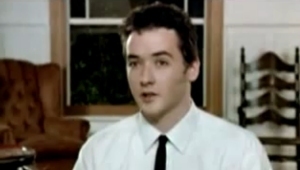 "I don't know, sir. I can't figure it all out tonight. I just want to hang out with your daughter."
"Um, ditto."