Blue Valentine
. (Although Ryan Gosling and Michelle Williams are so talented, and improvise some great moments. So you can almost overlook all of that). The movie takes place in two times about ten years apart. How it starts is a little familiar.
Dean (Gosling) is a slightly older, simple, lower middle-class guy who doesn't care about anything other than being with Cindy (Williams). She is a motivated high school student who wants to be a doctor. When problems arise - in the form of her dbag boyfriend knocking her up-she turns to Gosling for help. He agrees to marry her and even raise the other guy's kid. Like Lloyd Dobler, he has no ambitions other than being with his girl, and like Lloyd he is a genuinely good man.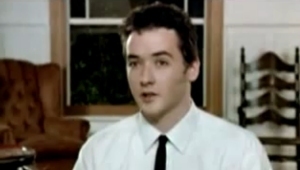 "I don't know, sir. I can't figure it all out tonight. I just want to hang out with your daughter."
"Um, ditto."
So What Happens Next?
Where Say Anything implies a happily ever after ending (barring an unforeseen plane crash), Blue Valentine flashes forward ten years. Dean is a devoted father. He also remains faithful and sexually interested in his wife. He does, however, chainsmoke, drink a bit too much, and has no other aspirations in life. He works as a house painter out of necessity, but is otherwise at home with the woman and daughter he loves.
And guess what? It's just not enough. Cindy grows to resent him. She hates her life. And even though he was exactly what she needed at the desperate moment at 18, she is not what she wants or needs ten years later. He is exactly the man he promises to be and it does not matter, because that is not the only factor in a successful marriage.
Some might say I'm being too hard on Cindy. I have three replies to that:
1) I'd love to be "hard on" Cindy. Michelle Williams. Mrowr! Zing! (Okay, we got that out of the way;
2) The semi-retarded screenplay is even harder on Cindy. Dean's tattoo? The giving tree. Yeah, the giving tree. The book about that tree that gives and gives and gives and the boy who takes and takes and takes until the tree is reduced to nothing. Most overt and functionally retarded symbolism ever.
How many blue collar Italian guys from New York do you know sporting this tattoo?
3) I'm not really criticizing Cindy. It was inevitable. She should have never married Dean in the first place. Being a solid guy was the only thing she really liked about him and it just wasn't enough. She made a mistake, but she was scared and 18.
Kind of like Diane Court. Kind of exactly like Diane Court, just with a baby on the way. 1980s favorite sweethearts Lloyd and Diane don't stand a chance. Thanks