Almost 13 years later, it turns out we're not all punching terrorists to death on our way to the bathroom every morning, but that anti-terrorist money is still spewing into the faces of police budgets like blood in an Evil Dead movie. Since 9/11, police departments have received $34 billion in anti-terrorism bonuses, and cops have used that money to buy stuff more suitable for Imaginary Fighting Terrorists on Airplanes Land than today's relatively peaceful America. I'm talking gear like armored personnel carriers, which are now owned by police departments in terrorist hotspots such as the ninth-largest city in Wisconsin.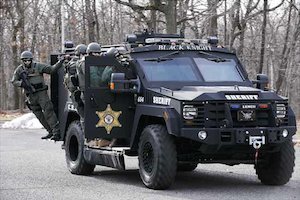 Via Blue Cheddar
"Hey, someone might target Wisconsin." -Wisconsin
And that's just the start of the "Let's arm our cops like they're in Future Stalingrad" bonanza. For the past decade or so, companies that produce intelligence and surveillance technology have been making bank selling it to the U.S. military. Now that America's war spending is winding down, it's much harder to use military contracts to build your own gold-coin swimming pools. When you're a defense contractor, potential new customers are limited: The federal government is not exactly big on American companies selling spy equipment to China. So, these companies are now actively targeting one of the only markets left to them: local police departments dripping with grant money.