If you haven't figured it out, here's a bunch of YouTube commenters spelling it out for you:
When the commenters on the video weren't asking for the name of the sexy blonde in the ad, they were wondering why Gurley bit into a picture of a burger and not a real burger. It's not often that YouTube commenters are 100-percent right. That burger is about as real as the chances of a professional athlete eating a fast food burger before their retirement.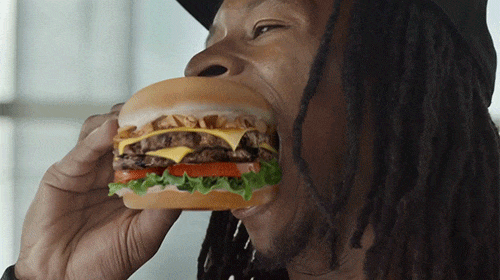 For one, it's supposed to cave at the end being bitten, and all the fillings should get blown out the ass-end, especially with that weak burger grip Gurley's got there. His fingers are behind the burger. He's holding it by the lettuce. If he can hold a burger by the lettuce and not have that thing fall apart in a floppy grease disaster, then he's not a running back, he's a wizard.
There was a whole Reddit thread bemoaning the laziness of the post-production work, and Adweek speculated (hopefully in jest) that Gurley's refusal to actually bite into a burger in a burger commercial means he might be a vegetarian. Meanwhile, tech site Petapixel did some investigating. They theorize that a still image taken from a few seconds before Gurley takes a bite was duplicated and plopped over his hand in place of the negative space he was biting into.
Meanwhile, Carl's Jr. tried to defuse the situation by providing this picture, which clearly shows Gurley still not eating one of their burgers.
The picture didn't do the trick, so later that day, Carl's Jr. coughed up what will go down in history as the Zapruder film of football players eating burgers in commercials. It's raw footage of Gurley taking no fewer than three real bites from actual, physical, non-copy-and-pasted burgers, on set, with the cameras rolling and everything.
Hey, a lot of things in SoCal are enhanced but Todd really did eat A LOT of Cali Classics. Available at Carl's Jr. ��?��??��?��??��?��??��?��?��?���°��?��??��?��???��?��??��?��???��?��??��?��??? pic.twitter.com/uWH2QfHtEi

- Carl's Jr. (@CarlsJr) June 10, 2016