Every dollar you possess should have a job. Don't let it just float around all willy-nilly like that breezy bag from American Beauty. The moment you have fun money is the money you hopped on a sled made of dipshittery barreling down a hill to ruin. No money is fun money, even if you spend it on fun things. That money should have been responsibly earmarked for entertainment.
Does it sound stupid to make yourself an entertainment fund and draw from it to go to movies, party with friends, buy yourself a kazoo? Maybe. But would you rather think you're a bit of a tool in your own head, since no one ever needs to know you do this, or wake up one day and realize you're so poor that you literally have less than a hobo? Just because you're in a house with a job doesn't make you better than a guy on a street corner. At least he's at ground zero. You're below it.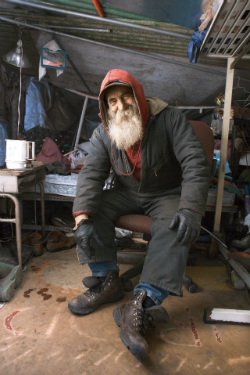 Thinkstock/Stockbyte/Getty Images
"Wait, he has multiple pairs of shoes? Shit."