Ultrasound machines use high-frequency sound waves to show images of what's inside the human body, like a giant mechanical bat, except with more uncomfortably cold gel. They're not exactly uncommon in the medical world, but most of us associate them purely with things like diagnostic tests and pregnancy exams.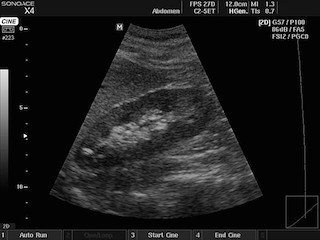 Via Medison
Congratulations! It's a kidney!
But ultrasounds can do more than just show bat-magic images of the inside of your body; they can also change the behavior of animals when applied to their skulls. A scientist at the University of Arizona heard about this and decided to try the same thing on humans. Or one human, to be specific: The guy used an ultrasound on his own brain. To his surprise, he experienced an "elevated mood" for an hour afterward. Rather than sitting there with the ultrasound wand to his head giggling for a week or two like most of us would, he decided to get approval to test it on others.
Sure enough, a double-blind study showed that patients with ultrasounded heads reported being in a better mood for about 40 minutes after their skull-wanding. Waving an ultrasound around one's scalp seems to provide humans with the necessary brain-tingles to get us out of a depression slump, at least temporarily.
How Does That Work?