It's unclear which incident this picture comes from.
But, you know, of course Brad Pitt can get away with that shit -- he's Brad Pitt. As one of the highest paid actors in Hollywood, this man holds more power than the president of any country in the entire African continent (and has probably spent more money feeding African children). However, Pitt's most bizarrely cruel joke took place before the height of the "Brad and Jen" media frenzy catapulted him to megasuperstardom, and way before "Brangelina" recatapulted him from there to hypermegasuperstardom. In 1999, Pitt had just done a little movie called Fight Club with director David Fincher. Another thing to come out of 1999? The Y2K scare, in which a great number of otherwise rational human beings convinced themselves that all electronics would fail on the night of December 31, and thus we would wake up the next morning to find ourselves living in Mad Max 2.
Weekly World News
What we thought would happen.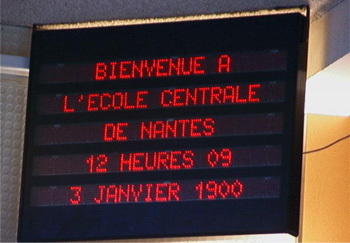 Bug de l'an 2000/Wikimedia