What we thought would happen.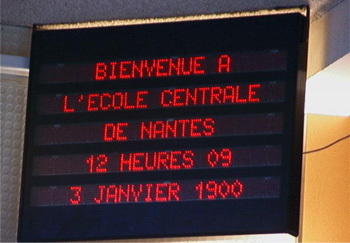 Bug de l'an 2000/Wikimedia
What happened.
Where many saw panic and desperation, Brad Pitt saw a chance to be a dick to his friends. As Fight Club author Chuck Palahniuk relates in this clip, on New Year's Eve 1999, Pitt and Fincher rented a Mexican resort and filled it with their friends, ostensibly for the purpose of partying like it's today. But then, at midnight, Pitt and Fincher "bribed the government to cut the power and the phone lines," presumably making their friends believe human society had just collapsed.
Helena Bonham Carter via Total Film
It only took them 15 minutes to turn to cannibalism and eat Edward Norton.
And then they turned the lights back on and a bunch of big-titty Mexican strippers came out? Nope! The worst was yet to come: At that point, government troops burst in carrying AK-47s and arrested one of Pitt's friends on drug charges. In the clip, Pitt seems pretty amused when he talks about how the guy's fiancee was in tears as the man she loved was taken away into the pitch-black darkness by corrupt officers. And ... then the big-titty strippers showed up? Actually, that's as far as Pitt has ever told the story, so presumably his friend is still rotting away deep inside some Mexican prison, convinced that the lights never came back on and that monkeys rule the Earth by now.
So, in hindsight, Jonah Hill got off easy.