The thrift store I worked at was in a really wealthy neighborhood, so obviously we got a solid handful of rich, bored housewives who'd come in out of idle curiosity for how the other half lives (spoiler alert, rich people: not as well as you). The wealthy customers would talk to me as if being around donated clothes meant that I was also some kind of discount, donated human. One such woman sneered when I told her an Abercrombie shirt was $2.99, because she expected it to be free, apparently. After I finished ringing her up, she stood by the register and pointed out every dismal aspect of our store like a judgmental stepmother.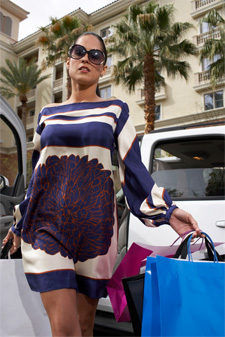 Andrea Chu/Digital Vision/Getty Images
"Where am I supposed to park my nice car or my tiny dog? And what
about OTHER stereotypes about rich people? What about THOSE?!"
If they're not being rude and judgmental, they're just taken by how positively quaint the idea of a thrift shop is. Another clearly rich woman was totally enthralled by how "cute" all our recycled, dusty clothes and barely-making-rent employees looked. She was really curious about my life, totally amazed that I was in school, even complimentary about how well I socialized with her. She looked at me with sad, sympathetic eyes like I was a toddler in a Russian orphanage and she was Angelina Jolie.