Who coined the term "Devil's Donuts"? Is that a colloquialism I've simply never run afoul of until now? Is that regional slang? If I go to Denver, are people going to be excusing themselves from the table to shuck a few Devil's Donuts? Because if that's not the case, this is unacceptable. This is worse than trying to make "fetch" happen. Don't try to make Devil's Donuts happen; it's not going to catch on, I can assure you. Have you ever watched Family Feud when someone gives a mind-numbingly dunce answer, and Steve Harvey looks at the camera like "This fuckin' guy" and waits for the X? That's the look life gives Devil's Donuts.
Realistically, how concerned have you been in your life about the ghosts of tacos past you've left behind in the bathroom, anyway? That's not to say I don't understand that some people seem to shit pure hatred and diesel -- I've gone to the bathroom after my dad before, and he made the paint bubble and the faucets sweat. It was a constant battle to maintain consciousness in those less-than-halcyon days. But is it really such a prevalent thought in your mind you need to buy a product to cover it up? I can only assume you live a life of leisure, luxury, and love if you have no greater concerns than errant swamp gas.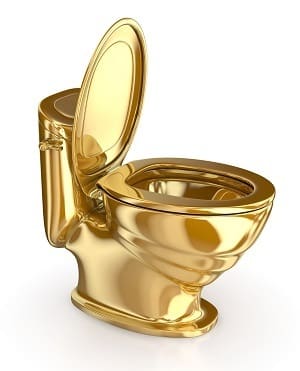 wir0man/iStock
And that your toilet comes from the Trump School of Interior Design.
More likely, the deal is as I suspect, that no one actually needs this product. It's like the whoopee cushion or Activia yogurt: some random fucking thing with no real appeal that people buy on novelty whims just because. It's weird how many products seem to make a fortune that way.