"Excuse me, sirs. May I piss on the charred remains of your world?"
A deep sea researcher from the U.S. National Evolutionary Synthesis Center who goes by the pen name Dr. M over at Deepseanews.com attempted to mathematically explain the eating and digestive patterns of the kaiju from Pacific Rim. He made a pit stop in their urinary canals along the way.
Everything in an animal's biology scales with size, so he used the equations biologists use to calculate how much food different types of animals need to live and scaled them up to the weights of the kaiju in the movie. It's hard to tell what earthly animals kaiju are most like, so he did the math for the likely candidates -- mammals, birds, reptiles, marine fish, and crustaceans --to cover all the bases.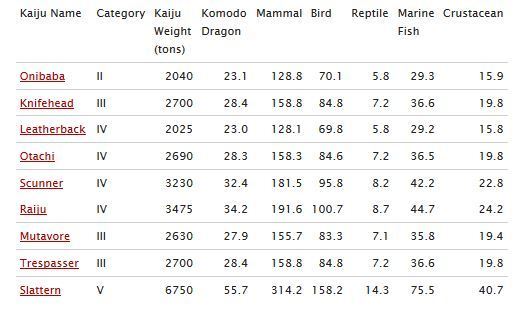 The good news is that it would take 61.7 years for a single kaiju to eat everyone in Hong Kong. That's bad news for people in Hong Kong, as they are being eaten. Better them than me, I suppose. Those numbers tell us how much kaiju would need to take in, so he calculated how much piss they would pump out, assuming their digestive efficiency wasn't 100 percent. The average kaiju could hose down a city block with the equivalent of 40 barrels of piss. Assuming that it's mammalian, the largest of the kaiju, Slattern, would pee nearly 2,000 gallons a day. If it were more closely related to frogs, Slattern would piss around 1.5 million gallons a day, roughly 92 Olympic-size swimming pools.
Warner Bros.