RoboCop
films on DVD, including the subpar third movie and for a second I'm met with silence before she asks me what has been concerning me lately.  Is there something that's being weighing heavy on me?  Something I'm stressed over?  Damn right there has, what did I have for breakfast? As though I'm talking to an even-tempered and potentially medicated wall, Claudia continues as though I have said nothing at all.  She's getting that I have some concerns about money.  Have I had some expenses lately that are troubling to me?  Yes.  My breakfast.
I haven't seen this many greasy meat tubes since I was an altar boy (ba dum bum).
The clock is ticking and I refuse to question this woman about my sausage any longer  (I had sausage for breakfast, incidentally).  I jump right into the big guns by explaining to her my beloved uncle Jeremy was lost at sea two weeks ago while out tuna fishing.  Is he OK? Inexplicably this question slows her down even more and I'm positive I've wasted over $10 at this point.  She tells me she sees water and darkness and it feels cold.  She tells me my uncle was definitely in the water and now, wherever he is, he's lost.  He's partially crossed over but she isn't sure if that means he has died or possibly in a coma.
The Verdict:
I cut Claudia off before I'm in to her for a full on case of beer or anything by triumphantly explaining that not only has my uncle Jeremy never been lost at sea while fishing for tuna, he doesn't even fish.  Also, he doesn't even exist.  Psychic your way out of that!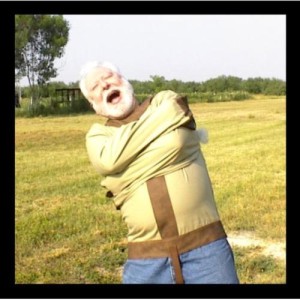 This is how they finally canceled Crossing Over with John Edwards.
She attempts to explain how the guides are showing her water in a desperate attempt to not have to do an about face to account for my fictional uncle's fictional demise.  I scream "fraud" into the phone and hang up, about $12 poorer but so much wiser.