SCENE: Christopher "Everyman" Bucholz walks into a Kentucky Fried Chicken.
Oh crap, there's a line. I should go. Yeah, I should go to Wendy's. -squints, makes sucking motion through teeth- No. Let's gut this out. That hankering for popcorn chicken was the real deal. You can't ignore your body when it sends signals like that.
__
Old man, please know what you want before you order. Holy hell. There is a menu the size of a couch right there. It has pictures of the food on it. This is a menu designed to be usable by gerbils. How the fuck can you be standing in line for 10 minutes and not figure out what you want?
__
How on Earth can you not know how combos work? That is not a new invention. It's in the Bible. "Land flowing with milk, and honey for only a dollar more." Remember that? Fuuuuuuuuuck.
__
Oh good. It's the woman with three kids, and an order for 28 more. It would be easiest to just give her five garbage bags full of chicken, but no, let's read through your two-page list of requests. Everyone will enjoy that.
__
Please do not let your child use the soda machine. He is four-fucking-years-old. He cannot reach it. And now there's soda everywhere. What a fascinating intersection of gravity, fluid dynamics and stupidity.
__
Please yell at your child. Let them know they did something wrong! Would you like me to do it? Put me in, coach. I'm ready.
__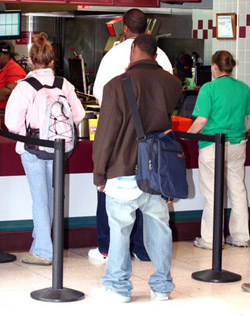 OK, this guy's cool. Two piece combo, pays cash, stands off to the side. Yes! That is how a playa orders at KFC! Do you see that, mouth-breathers? Do you see how simple it can be?