3)
Halfway through the second game, Solid Snake dies his hair blond and is played by a woman. This is never explained.
4)
Shaking down bad guys to steal their dog tags before murdering them is a war crime, and not a "cool feature."
5)
The guards in the Metal Gear games will give up searching for you, a heavily armed infiltrator/murderer, after about 30 seconds of half-assed poking around. This is just one of many instances of the series heavy anti-union sentiments on display.
6)
The bad guys also never raise their gaze from the floor, constantly scanning the ground about 10 feet in front of them. Terrified of lilliputian interlopers or constantly on the lookout for spare change? You tell me.
7)
Male Nudity. Needed more of it.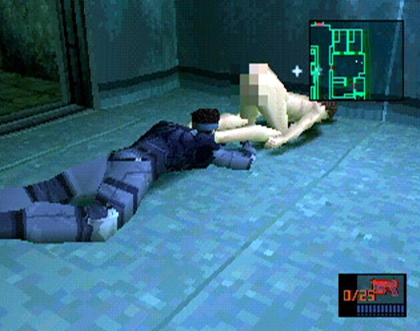 8 )
In the first game, several characters die from a disease called FOXDIE, which is spread by toilet seats. This has long been proved to be an urban legend.
9)
Even though Snake is capable of slaying dozens and even hundreds of enemies at a time, in every encounter he's confronted by an infinite supply of enemies, forcing him to run and hide - a humiliating fate for one so powerful. What kind of message does this send our children? Just what kind of American is series creator Hideo Kojima anyway?
10)
Starting right in basic training, professional soldiers are drilled to never display exclamation marks above their heads when surprised. If you ever get the chance to observe this training I highly recommend it: the exercises they conduct to learn this skill are hilarious.
11)
Snake's radar doesn't work when he's hiding under tables. Are these tables made out of lead? Is there kryptonite near by?