Archie
writer Batton Lash, who also penned the homoerotic rape fantasy comic "Archie Meets the Punisher" in 1994, but didn't have sense enough to kill Archie off in a whips and chains malfunction. He's
The Punisher
, Batton. He kills
everyone
. Yet this gang of Riverdale punks outflanks him? That's not
my
Frank Castle.
My
Frank Castle is still tormented by memories of rooting elbow-deep through Jellybean's entrails looking for a key of Colombian blow.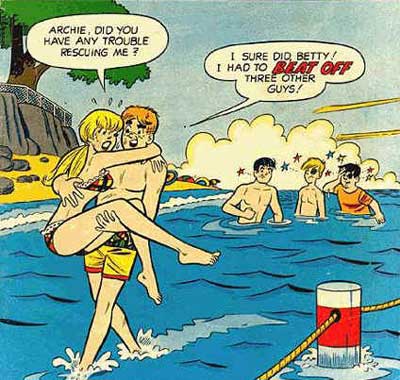 Hey! Let's do this now!
Things The Archie Prequels Would Have To Include For Me To Want to Read Them:
An existential stand-off erupting when the gang runs into Bazooka Joe and friends, who assume their personalities (Mort as Jughead, and so on) in an effort to escape their gum-smeared two-panel Hell.
The gang have a rude awakening when Reggie notices that Betty has been topless for the last eight months.
Everyone gets a bonus day off of school when Principal Weatherbee overdoses on sleeping pills in his office. Can you say beach party?!
Betty's mother, Mrs. Alice Cooper, embraces her namesake and starts a satanical goat-slaying ring in her basement with the gals from the Bridge Club.
Marmaduke, Garfield, The Family Circus, and the Scooby Doo and Jabber Jaw gangs all blow into Riverdale for a big pancake dinner at the church, which then explodes, trapping them all inside to slowly burn to death while a deranged, mysterious, yet physically irresistible blogger character laughs maniacally form a nearby hilltop, hands still gripped tight around the depressed TNT plunger.
Archie and Veronica bone for issues at a time. Jughead can watch.
Batton Lash, I know you read the blog, because the entire plotline of the "Archie Goes to a Dance" issue was ripped off from my post about Shia LeBouff's arrest. Put no less than three of the above points into the Archie prequels, and all is forgiven. Although I won't be reading them, so if you do, write and let me know.
---
When not blogging for Cracked, Michael avenges the murder of his family as head writer and co-founder of Those Aren't Muskets!
More Blogs