For me there is no difference.
So, I compiled a list of the most common pieces of advice out there, and then using the secret powers of four cups of coffee, I flipped them on their heads to come up with a list of advice sure to land anyone a job, even losers. _______
Conventional Advice: Research the company beforehand
Most experts recommend reviewing the company's website before the interview, reading up on the company's history, and their products, etc... Which is great if you're writing a book report, or are applying for a job as the office wiener. Every other chump is going to be reading the stupid boilerplate company website, which no one in the company actually cares about.
Unconventional Advice: Research the fuck out of the company beforehand
Instead, try asking around hacker circles on the Internet for advice on how to break into the company's servers. Look for information on the company's financial situation, secret recipes and, in the case of Target, their history of ritual slayings tied to the Winter solstices. See if you can find out personal information about your interviewer themselves - knowing what hobbies he has and claiming you have the same is a great way to establish a bond. How strong is his marriage? Consider sleeping with his wife to establish another common bond. "Well, I'd have to guess reading, jogging and sticking it to your wife. Ha ha ha! High five brother! Seriously though, she's got some daddy issues, hey?" _________
Conventional Advice: Look professional
This advice basically boils down to the single sentence: "Dress like you've got the job you want, or better." Which is fine, if you want to look like every other Johnny Bowtie or Sally Pantsuit. You can do better than that.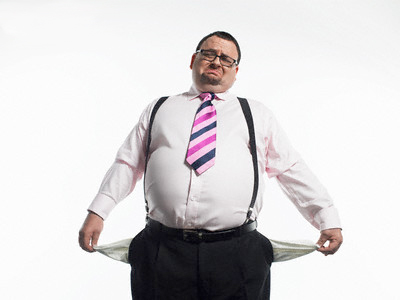 Turning out your pants pockets for an interview is also a no-no. Unconventional Advice: Look interesting
You want your outfit to cause your interviewer to think, "Holy shit, I bet this guy has some good stories." The daily grind of office life can get a bit boring, so having someone in the office who's really knowledgeable about highway rest-stop culture or your town's Malay machete fighting scene will add a real air of excitement to the work day. Here's some ideas for outfits that should give you an idea of the potential here: