The Office: 15 Recent Revelations
Extra! Extra! The new recently uncovered facts about The Office here, fresh off the presses! Learn how to make Kevin's chili plus 176 other options for chili. Learn what gift BJ Novak Gave to his dear friend John Mayer (namedrop). Build a set of Lego's featuring your favorite sitcom characters…again! Here are 15 recent The Office revelations.
The Hidden Meaning Behind The Talking Heads
One of the biggest hidden interview choices made for The Office was revealed on Office Ladies. The show's creator Greg Daniels revealed that the placement of the character's talking heads was very intentional. Daniels explained, "the idea was that any character that had a future outside of Dunder Mifflin or held some sort of internal optimism would sit in front of a window leading out into the world. But characters who didn't want to leave Dunder Mifflin or who maybe were in more of a position of being trapped, would do their talking heads facing into the office."
Kevin Is Getting His Own Chili Cookbook
If there's one thing The Office cast members know how to do, it's how to make money off of that character they played ten years ago. Brian Baumgartner, the actor behind Kevin Malone, was the highest earner on Cameo in 2020, has a The Office podcast, a book about The Office, and now a cookbook about The Office. Seriously Good Chili Cookbook: 177 of the Best Recipes in the World is exactly what the title implies; The actor behind Kevin Malone who had that ONE SCENE about chili, has now put together a book of 177 chili recipes. Imagine the 2003 infomercial that would've accompanied this one.
John Mayer's Demands Before The Office Could Use His Song
John Mayer was weary when his friend B.J. Novak reached out to ask permission to use his song "Your Body Is A Wonderland," on The Office. Jenna Fischer explained the story on Office Ladies saying, "He was like, 'I don't think so.' And he actually wrote about this on his blog. He was like, 'One of my favorite shows on television, "The Office," wanted to use my song '"Your Body is a Wonderland" in a scene for their Christmas episode. Now, I'm not making apologies for my work, but it's safe to say I don't get asked to use "Wonderland" for strongman competitions and documentaries about aircraft carriers. I usually get asked so that people can goof on it. So I initially turned down their request. But after thinking about it, I decided to go for it." His terms were that he would allow the song in exchange for a Dundie, which B.J. gave him for "Tallest Music Dude."
Mike Shur Thought The Show Would Fail
The Office writer and producer Michael Shur spoke about his initial skepticism about the project at the Austin Film Festival. Shur said, "I met Greg Daniels in the spring when he was just about to adapt The Office. I was a huge fan of the British Office. I, like most people, thought that adapting it for American television was a terrible idea, right? I went into the meeting with a great deal of skepticism and I left the meeting thinking 'I will follow that man to the end of the Earth.' I left and I sent my agent an email that said 'I don't know if adapting The Office is ever going to work, but if it doesn't work, it won't be because that guy doesn't know what he's doing, that guy is a genius and if he offers me a job I'm going to take it.'"
Michael Deleted Scene Tells More About his Childhood
The Office superfan episodes streaming on Peacock revealed a deleted scene from the episode "Surplus." In Michael's riveting monologue where he proves the chairs and copier are working just fine so he can keep the surplus bonus for himself, a few eye-opening lines were deleted where we learn a little bit more about Michael's relationship with his stepdad, Jeff.
Season 9 Was Re-Edited To Scrub Blackface
In the season nine episode "Dwight's Christmas,"  Dwight insists on sharing the Christmas traditions of his German heritage, including the legend of Belsnikel and Black Peter. Oscar reveals that Black Peter was "a slave boy often portrayed in colorful pantaloons and blackface.", to which Dwight says, "Oh, come on. We don't blindly stick to every outmoded aspect of our traditions!" before speedily sending a text. The next shot shows the warehouse worker Nate dressed as Black Peter, including blackface, who receives the text and goes to change. The Office creator Greg Daniels decided to pull the scene the same morning the infamous blackface 'Dark Elf' scene in Community was pulled from streaming.
Could This Be The Scranton Strangler?
The only thing The Office fans like more than, well…The Office, it's creating theories as to who was the real Scranton Strangler. Mashable video producer, Jules Suzdaltsev revealed his theory about David Wallace being the Scranton Strangler - essentially making the case that, Wallace is constantly checking in on the Scranton office despite living in NYC, giving him an excuse to murder people far from home. Suzdaltsev defines Wallace as a Patrick Batemen type, who doesn't fire Michael so that he has a reason to keep coming to Scranton. Andy Buckley, who played Wallace even agreed with the theory saying, "He had it in him to just snap.  Hot tub middle of the day, boozing, creating the Suck It.  And what was he doing in Season 8 the 3rd or 4th to last Ep. Runs into Andy at a local Scranton Charity Dinner?  Why was he in Scranton?  Perhaps you're correct." It's a fun theory, but then who in the hell strangled Toby when he visited him in jail?
The Line Fans Spit At Rainn Wilson All The Time
Rainn Wilson revealed to Brian Baumgartner on The Office Deep Dive Podcast, that people will often quote a line to him, that Dwight never actually said. Wilson said, "People always say, 'I want you to write Bears. Beets. Battlestar Galactica' I'm signing a picture or something like that, or say it. It's like, Dwight actually never said that. Two hundred episodes, Dwight never says, 'Bears. Beets. Battlestar Galactica.' That was Jim as Dwight saying that."
The Lego Office Set Releases Soon
What could be better than building a Lego set of the Office from The Office, while watching The Office and listening to Office Ladies? Well, now your dream can come true as Lego is releasing a The Office-themed Lego set complete with all your favorite characters and props. The set releases on October 1st, 2022. 
Krasinski Was Uncomfortable With This Fan Theory
A fan theory that states that Jim Halpert was actually the secret villain of The Office all along finally made it to John Krasinski's ears. Jimmy Fallon brought up the theory to Krasinski, completely taking him by surprise. "Wait, what? Did you make that up?" said Krasinski, "When you ask it like that, it makes me uncomfortable. Can you imagine if that's what it was? … Well, they're on to me, because I played it as a supervillain. That's why I did Fantastic Four, to balance it out, I had already done the villain."
Mindy Kaling's Favorite Episode That She Wrote
Mindy Kaling revealed in Andy Greene's book, The Office: The Untold Story of the Greatest Sitcom of the 2000s, that her favorite episode she's ever written of The Office is "The Injury." The season two episode is often regarded as one of the best episodes of the whole series and follows Michael after he grills his foot on a George Foreman Grill. Kaling said, "The name of the episode was 'My Grilled Foot' for the longest time until we thought that might be too weird."
Gervais Turned Down The Lead Role
Ricky Gervais was offered the lead role of the American Office very early on, but Gervais felt it was redundant. He told Belfast Telegraph, "They said 'Do you want to play the main role?' But what's the point of that? We made The Office, which was a document of what it was like to be in an English office and it was made by English people for English people, and this should be made by Americans for Americans." 
B.J. Novak Says Ship Has Sailed On OG Cast Revival
B.J. Novak told Deadline that he doubts a revival of The Office would ever materialize. Novak explained, "I don't know contractually, but I know spiritually, it's a pure Greg Daniels thing. Everyone knows he is the person who controls the rights to The Office, spiritually, creatively the American Office." He went on to describe that the core appeal of The Office was how unpolished and real it felt and that the magic most likely wouldn't be captured again with its success. He also added, "Definitely you wouldn't get everyone back together, that ship has sailed."
Mindy Kaling's Prank On BJ Novak
On Conan O'Brien Needs A Friend, B.J. Novak described one of the best pranks Mindy Kaling ever pulled on him. "She once on The Office told me that, there was a female director that had done an episode of one of my scripts, and I didn't especially like how the direction went, not a huge deal, but Mindy said that (the director) used to date, Greg. Then Greg was like, 'What did you think of her, as a director?' And I was like, 'Yeah, she was good!' So we hired her back. But I should have said, like, 'Not my favorite director.' And later I told him, like, 'You used to date her, right?' And he was like, 'What are you talking about?' never acted like she got me, it was just a private joke, which is even more pure. I have to admire the comedian that doesn't need an audience, just her and God."
How One Michael Scott Joke Cost 60K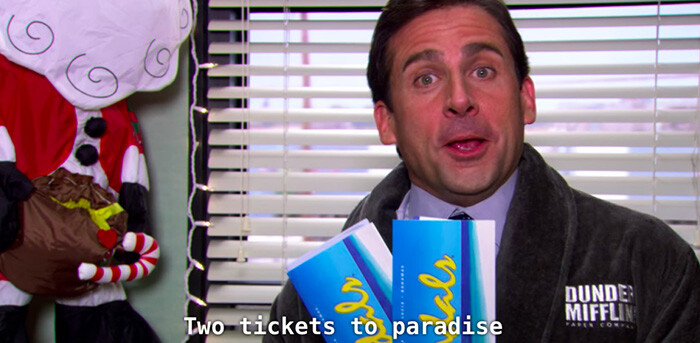 In the episode "Benihana Christmas," Michael sings a riff from Eddie Money's "Two Tickets To Paradise," which ended up costing the production $60,000. The writer of the episode, Jen Celotta, told Office Ladies, "I was like, it's a fine joke, but none of my jokes I've ever written have been a $60,000 dollar joke. But I remember not so long after that we had some of our music budget pulled away from us. And I can't help but think I mean, I was sitting at the mix and had no idea that because he sang that song, that song had to be cleared and that joke was $60,000 dollars."
For exclusive ComedyNerd content and more, subscribe to our spiffy newsletter:
Top Image: NBC
Scroll down for the next article