Get This Gaming Gear For An Extra 15% Off Now
This piece was written by the Cracked Shop to tell you about products that are being sold there.
Gamers come in all shapes, sizes, and levels of interest. The good news is that gaming gear follows the same trend, so don't worry if you're not sure what species of gamer you're dealing with this holiday season. With an extra 15% off all this gaming gear during our Christmas sale, an educated shot in the dark isn't going to cost you much!
Mice and Keyboards
Ninja Dragon Stealth 7 Wireless Silent LED Backlit Mouse, $23.79 (reg. $39) with promo code MERRY15
This TRON-looking mouse has a 1600 DPI True Gaming Sensor, an ultra-precise scroll wheel, and high precision positioning for shooting your way through any map. Plus, it's plug and play on Windows and Mac -- no drivers needed.
2.4G Wireless Keyboard & Mouse Combo, $29.74 (reg. $70) with promo code MERRY15
The shiny wireless duo uses 2.4GHz wireless for a crisp connection and just one USB receiver so you can keep another one open for headphones, thumb drives full of incredibly niche anime, or whatever.
Razer Orochi V2 Mobile Wireless Gaming Mouse, $39.94 (reg. $69) with promo code MERRY15
Made with a Razer(TM) 5G Advanced 18K DPI Optical Sensor and with up to 950 hours of battery life, this ultra-lightweight mouse is an elite option for gaming. It's completely wireless, and the mechanical switches have a longer lifespan of up to 60 million clicks. We'll save you the math and Googling: That's multiple decades of clicks.
Voice Control Backlit Keyboard, $50.99 (reg. $99) with promo code MERRY15
Nothing says "gaming all night long" like a keyboard that doubles as a rave! Plus, it's water-resistant, so when you inevitably spill all over it, it won't immediately die!
Controllers
GameCube Controller Adapter For Wii/PC/Nintendo Switch, $10.19 (reg. $20) with promo code MERRY15
As weird as the Gamecube controller was, some people grew to really love it. If you're one of those maniacs and want to use it on your Wii, PC, or Nintendo Switch, this adapter makes it possible.
LED Dual USB Charger Docking Station for PS4, $11.04 (reg. $49) with promo code MERRY15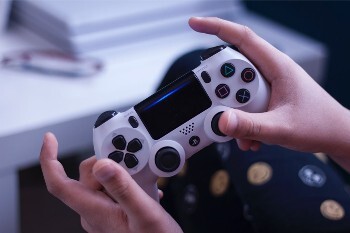 Charge both your PS4 controllers in one place with this dual charging station! It's also a clear place to put your controllers down rather than throwing them around higgledy piggledy for you to step on later.
PS5 DualSense Controller USB-C Charging Dock, $16.96 (reg. $49) with promo code MERRY15
Oooh, so you're lucky enough to have a PS5? Well, take good care of that thing and make sure your controllers are always nicely organized and charged, you high roller.
PS5 Wireless Controller Dual Charging Dock Station, $25.46 (reg. $40) with promo code MERRY15
Slightly different design, same basic idea. Not to get all Lewis Carroll on you, but it really comes down to how you feel about upside down versus right side up.
Bluetooth Controller for Nintendo Switch, $29.74 (reg. $99) with promo code MERRY15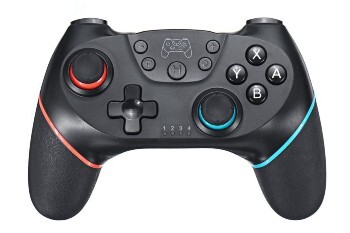 Can't shake the feeling that Nintendo Switch controllers were made for children? Neither can we. Get this Bluetooth controller that more closely emulates an XBOX controller instead so you can feel like an adult while playing with your toys.
Headsets
RIG 500 PRO HS Precisely Tuned Stereo Gaming Headset, $27.19 (reg. $69) with promo code MERRY15
Precisely tuned for use with PS4 and PS5, this gaming headset delivers high-resolution audio in a lightweight, moisture-wicking build that keeps you comfortable no matter how sweaty and immersed in the game you get.
Logitech 981000748 G635 7.1 Lightsync Gaming Headset, $64.58 (reg. $139) with promo code MERRY15
This fully customizable headset is built for premium comfort during marathon gaming sessions. With standard 7.1 channel surround sound, you'll feel right next to the 12-year-olds when they call you unspeakable things!
Alpha Bravo GX-1 Gaming Headset, $101.99 (reg. $119.99) with promo code MERRY15
Rated 4.7 stars on Amazon, the Alpha Bravo GX-1 is a professional headset made for multiple platforms that will have you seriously nerding out. It has a built-in noise-cancelling microphone for more precise sound and fingertip volume control on the cord.
Consoles
Retro Mini Built-In 400 Video Game Handheld Console, $21.21 (reg. $69) with promo code MERRY15
It may look just like a Gameboy Color, but this baby doesn't need any of those silly old cartridges. It comes pre-loaded with 400 classic games for endless gameplay.
Portable Game Pad with 400 Games + 2nd Player Controller, $22.94 (reg. $79) with promo code MERRY15
Man, they're getting creative with knock-offs these days! This Gameboy-looking device comes preloaded with 400 games and has a second controller so you can connect to TVs for multiplayer fun.
Retro Inspired 820-Game HDMI Console (2-Pack), $80.74 (reg. $259) with promo code MERRY15
It looks like a SNES and plays like one, too! This little console connects to your modern TV via HDMI cable and comes preloaded with 820 classic games. Plus, you'll get two for one! You might be pretty good at gaming, but have you ever tried playing two at the same time?
Prices are subject to change.