Grab Your Friends and Fam Something They'll Love For The Holidays
This piece was written by the Cracked Shop to tell you about products that are being sold there.
From becoming an expert cryptologist trying to decipher your partner's vague but overt hints to pulling idea teeth out of that person you barely know but are obligated to include on your list (because the social nightmare of snubbing your sister-in-law's best friend would be even worse), picking out holidays gifts is hard. Well, don't you worry your pretty little head! Pretty much anyone would be happy to receive any of these gifts. They're all on sale for way less than retail value during our pre-Black Friday Doorbusters sale, so it's a nice gift to your wallet, too. Just sit back, relax, click that "add to cart" button, and then just stick on name tags at random. Chaos is a gift, too.
Aroma Mist Diffuser, $17.99 (reg. $27) for a limited time
Nobody hates good smells. It's just a biological fact, so pick up this diffuser for the gift of instant chill vibes.
iJOY 3-In-1 Social Media Kit, $24.97 (reg. $49) for a limited time
Help your little aspiring influencer make their selfie videos a lot more professional-looking with this kit that includes a phone stand, LED ring light, and wired mic all on one.
BAKBLADE 2.0 Plus DIY Back Hair Removal & Body Shaver, $29.99 (reg. $39) for a limited time
Okay, you might wanna put some thought into who you send this one. Like, your mom probably won't be amused. But if you know someone who's been paying too much for back waxing, this is a nice thought.
Curtis Stone 4-Quart Cast Aluminum Pan with Glass Lid, $32.97 (reg. $59) for a limited time
Meet a do-it-all pan that makes the transition from stovetop to oven to dining table an absolute breeze. Perfect for recent grads with no cooking utensils, this versatile pan is great for everything from soups and stews to braising meat and roasting vegetables. In other words, everyone but opening DoorDash for yet another disgusting cheeseburger.
Osanna Gold Necklace, $34.99 (reg. $42) for a limited time
Dipped in 18K gold, this 3" circular pendant adds a nice touch to just about any style. It falls just below the collarbone, making it great for crew necks or dresses and showing your loved one you actually know something about style.
Wolfgang Puck 14-Function Bread Maker with Nut Dispenser, $59.97 (reg. $119) for a limited time
If you give a man a bread, he'll be happy and full of carbs for a day. If you give a man a bread maker, he'll be that way all the time. And this versatile machine is pretty dang easy to use, with 14 functions, three crust settings, and even a nut dispenser for those nutty breads and/or your immature friend who will love saying "nut dispenser" over and over.
Lamp Depot Minimalist LED Corner Floor Lamp, $70.97 (reg. $140) for a limited time
For your design-y friends who like to entertain, this floor lamp will make a very practical piece. It slides easily into the corner and, thanks to the soft-white integrated LED lights and included remote control, you can make it light up in more than 16 million colors and 300 multi-color effects. If nothing else, it'll be a fun evening trying to try them all.
Wine Insiders, $73.97 (reg. $300) for a limited time
Nothing says "I love you" quite like 15 bottles of wine sent right to your doorstep. It's even more meaningful when you find out that Wine Insiders approves just 5% of the wines they taste from around the world. For real, it's good stuff.
TREBLAB Z2 Bluetooth 5.0 Noise-Cancelling Headphones, $74.97 (reg. $259) for a limited time
TREBLAB calls these headphones the Z2's because they claim to have twice the sound and twice the battery life of competing noise-canceling headphones. We don't know what the Z is for. Probably something similarly cool and techie.
Amore Beds 15Lb Weighted Blanket, $81.99 (reg. $129) for a limited time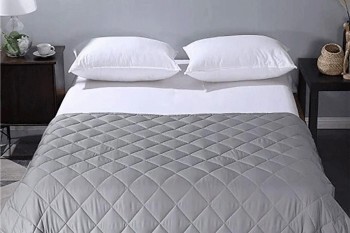 You ever tried a weighted blanket? It's like being hugged by the entire universe. They have a number of benefits, from helping you get to sleep to aiding muscle recovery after a tough workout, so give the gift of melting under the best kind of pressure.
Potey 8" Glazed Ceramic Indoor Planter Pot, $34.99 (reg. $42) for a limited time
If you know someone who is, like, almost unhealthily into plants, they'll love Potey. This large ceramic planter is made from high-quality materials and accented with a contrasting natural color base for a contemporary look, making it a great home for botanical children.
Toybox 3D Printer Deluxe Bundle, $319.97 (reg. $469) for a limited time
Not all of them will admit it, but literally everyone would have a blast 3-D printing their own toys. This printer comes with everything you need to start designing and printing toys safely and without any technical expertise required, turning Christmas morning into a magically goofy time for kids from one to 92. (Probably do not give it to infants.)