White Elephant Gifts To Upgrade The Everyday Carry
This piece was written by the Cracked Shop to tell you about products that are being sold there.
Michael Scott exposed the great error of White Elephant/Yankee Swap/whatever you call it where you live when he slipped an iPod into the $10-limit game on The Office. Somebody always gets something that's way cooler than the rest of the gifts, and it inevitably leaves a tangled web of grudges in its wake. If you're forced to participate in this dangerous game, we're here to provide you a dope contribution that won't earn you any enemies because they're all available at an extra discount when you use promo code SAVE15NOV.
SoloPipe: Self-Igniting Pipe, $39.94 (reg. $69) with promo code SAVE15NOV
If you've got friends who are both rich enough to set a $40 White Elephant limit and down with that dank herb, congratulations on the Brooklyn brownstone! Also, this unique piece has an integrated butane lighter so all you have to do is click to light up and mellow out. With the quick-release switch, you always get a reliable flame and a consistent burn.
Chargeworx Magnetic Wallet for iPhone 12, $18.69 (reg. $24) with promo code SAVE15NOV
If you don't trust yourself to carry around anything more than a phone but it's got one of those MagSafe charger back thingies -- or you have a White Elephant target who does -- don't despair. This clever wallet allows passthrough MagSafe charging while giving you a place to store IDs, cards, and more.
Geekey Multi-Tool, $19.54 (reg. $55) with promo code SAVE15NOV
A great gift for the DIY-ers in your life, the Geekey Multi-Tool is loaded with wrenches and convenient tools to take care of everyday fixes. You can even smoke with it!
Key Titan KT7 Carabiner, $22.09 (reg. $25.99) with promo code SAVE15NOV
This Kickstarter-funded carabiner is made of Grade 5 titanium and loaded with features to keep your keys organized, protected, and quiet. Confound that infernal jingling!
Pocket ChainSaw(R), $25.49 (reg. $29.99) with promo code SAVE15NOV
The Pocket ChainSaw(R) is an ingenious little line of razor-sharp chain that you can use to saw right through wood, plastic, and other materials. Also, it's a pocket chainsaw. Don't overthink this.
Twisty Glass Blunt, $28.04 (reg. $39) with promo code SAVE15NOV
Get your sustainable smoke on with the Twisty Glass, an ingenious device that does away with blunt wrappers with its simple corkscrew design. The only way to make this White Elephant gift better is to pack it first.
StatGear Slinger D2 Steel Flipper Folding Knife, $28.89 (reg. $49) with promo code SAVE15NOV
This folding knife is fitted with high-strength, heat-treated D2 steel, some of the highest quality steel you'll find in a blade. With caged ball bearings for a quick flicking action and an ergonomic handle design, Michael Myers himself couldn't dream up a better knife.
Mini Flagship 10-in-1 Multitool, $29.75 (reg. $49) with promo code SAVE15NOV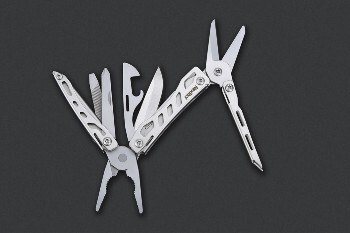 Think of this guy as a mini Leatherman for the outdoorsy types in your life. It has knives, pliers, shears, and much more to keep you ready for anything on the trail.
Dissim Inverted Lighter, $33.99 (reg. $48) with promo code SAVE15NOV
Lighters are cool and all, but they have that glaring design flaw where if you try to light a candle and turn the lighter upside down, it roasts your thumb. This lighter solves that problem by inverting where the flame goes, i.e. away from your manicure.
Hometown Knives HTB18 Sanami Small Drop Point Skinner, $100.29 (reg. $135) with promo code SAVE15NOV
Okay, now we're just full-on splurging, but do you see that thing? It's pretty A.F. With a four-inch hand-forged Damascus blade, this knife is specifically designed for skinning meat and or whatever badass slicing duties you've got. Just double-check that White Elephant limit. Don't be a Michael.
Prices are subject to change.
Scroll down for the next article