Gifts For Gamers This Holiday Season
This piece was written by the Cracked Shop to tell you about products that are being sold there.
You may think you have a pretty good idea of what to get the gamer in your life this holiday season, but when you go to buy that console you had your heart set on and it's, like, $500, you might start to wonder if they should be gaming so much anyway. We get it, but you can't change who they are, so allow us to suggest some other, more budget-friendly options for the holidays.
Apex Phone & Tablet Stand, $21.99 (reg. $59)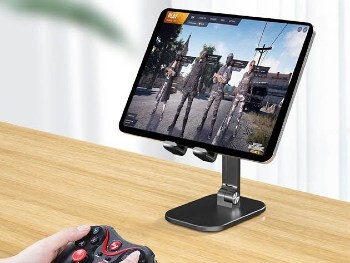 This flexible table stand lets you prop up phones or tablets for FaceTiming, gaming, streaming, or whatever other activity you need your hands free for. No judgment.
Gameo Handheld Game Console with 500 Games, $39.95 (reg. $48)
Give the older gamers a nostalgia trip and young gamers an appreciation of history with this palm-sized console that comes pre-loaded with 500 classic 8-bit games.
Mini Game Entertainment System with 620 Built-In Classic Games, $36 (reg. $89)
This mini gaming system is a NES emulator that comes loaded with 620 classic games. You will fall down a hole.
XBOX One S 1TB All-Digital Edition Console Bundle, $379.99 (reg. $499)
Okay, you knew we weren't getting through this without throwing a console your way, right? At least we're giving you a good deal! This Digital Xbox One S is refurbished, which means it's certified to work like new but it's way cheaper. They'll never know. The all-digital console gives you access to a massive library of games online and comes with Minecraft, Sea of Thieves, and Forza, so they'll definitely be busy on Christmas morning while the less activity-inclined get a good nap.
300-Piece Pokemon Cards Pack, $45.95 (reg. $69)
Whether you know someone who loves Pokemon or you just think they should, this massive pack is a steal. Don't worry, it's guaranteed to have some holographics in there. Everyone loves shiny stuff.
Flux Original Scientific Toy + Magnet Shield Bundle, $119.99 (reg. $149)
Not to stereotype, but one type of nerd is more likely to be another, so if your gamer is also something of a science lover, this toy will probably make them giggle all stupid. The Feel Flux relies on a magnetic principle called Lenz's law that makes this odd little ball appear to be floating, making it a great fidget toy, stress reliever, or just something to freak people out.
PocketDrum Too Real Drum Sticks + Foot Sensor Set, $135.95 (reg. $159)
If they're more into the creative side, help your gamer turn all that energy for virtual fun into a new talent. PocketDrum is a complete sensor set that allows you to play the drums virtually from pretty much anywhere. Just pair it with the app, start banging, and make beautiful music.
Crystal Chess Set, $159.99 (reg. $300)
Gamers don't have to be just video gamers! If someone in your life got hooked on chess after binging The Queen's Gambit, get them this gorgeous chess set with crystal pieces. They'll feel just like they're owning the Soviets.
Controller Gear Star Wars: The Mandalorian Baby Yoda, Xbox Wireless Controller + Pro Charging Stand Bundle, $229.99 (reg. $329)
For XBOX-playing fans of The Mandalorian, this limited edition bundle includes a themed controller and charging stand that's perfect for collectors and fanatics alike.
Toybox 3D Printer Deluxe Bundle, $350 (reg. $469)
That gamer of yours clearly likes playing with technology, so why not try out some technology for playing? This kid-friendly 3-D printer comes with everything you need to design and 3-D print new toys from scratch. Talk about self-sufficiency.
Prices are subject to change.
Scroll down for the next article