Cool Dads Carry Cool Things In Their Pockets
This piece was written by the Cracked Shop to tell you about products that are being sold there.
If there's anything dads love more than their children, it's carrying stuff in their pockets. Don't wait until June 20 to find the perfect item to fill Dad's truly massive pockets -- just scroll through this great list of everyday carry items that he will love breaking for no reason. And then order something. That part's important.
Apple Watch Wireless Charger Keychain
MSRP: $49
Dad loves his Apple Watch, but he'll love it even more when he can charge it on the go. This handy wireless charger fits on a keychain and lets you give your Apple Watch a boost whenever, wherever.
Chargeworx Magnetic Wallet for iPhone 12
MSRP: $24
Combine two everyday carry items into one! The Chargeworx has an enhanced magnetic design that firmly adheres to the back of your iPhone 12 and gives you space for IDs, credit cards, and more. You know Dad loves a good wallet.
MSRP: $29
If your dad doesn't so much walk into a room as jingle because he insists on wearing 138 keys on his belt loop, help him out with the snazzy KeySmart Leather. This leather key organizer fits 10 keys in an easy-to-use sleeve, so go ahead and get a dozen.
UT10 Multifunction Rechargeable 170 Lumen Headlamp
MSRP: $29
This adjustable headlamp is great for fixin' cars, campin' outside, lookin' under the porch for one of his many keys after he drops it, etc. It has multiple light sources that keep dad in complete control of the light and also attaches easily to hats, bikes, cars, and more.
MSRP: $50
DIY dads will love this entire toolkit consolidated into a pocket-sized device. The M.250 comes with 12 S2 steel hex bits, and the magnetic backing makes it easy to store on any ferritic surface. Don't worry: Your dad will know what that means.
Dr.K3 Pro Type-C Rechargeable Penlight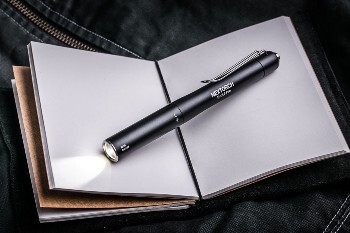 MSRP: $49
The closest Dad's gotten to being a doctor might be fashioning a splint for your finger out of popsicle sticks and scotch tape, but you know he'd get excited about a professional medical flashlight. This penlight has dual light sources and three brightness levels designed for examining humans, so it can definitely handle reading, peering constantly into the garbage disposal, or whatever else Dad will use it for.
B-2 BLITZ Tactical Pocket Knife
MSRP: $75
Named for the famed B-2 Bomber (heyyy, history dads, heyyyyy!), this sleek tactical pocket knife has a hefty build and tanto blade that gives it immense power, whether you're trying to pry or cut.
ZENLET The Wallet with RFID Blocking Card
MSRP: $81
If dad believes a wallet is all in the design, he'll love the ZENLET. This clever wallet uses an auto-card arrangement and slide design to fan out cards in an easy-to-access way. Plus, it comes with RFID blocking to protect from data theft.
Cashew Smart Wallet with Biometrics & Bluetooth
MSRP: $149
The pinnacle of wallet technology, the Cashew Smart Wallet will help Dad keep all of his goodies protected from enemies, both real and imagined. It uses Bluetooth to ensure it never gets lost and biometrics to give access to only approved fingerprints, because the only thing your dad has ever wanted to be more than a dad is James Bond.
Fitbit Ionic(TM) GPS Fitness Smartwatch
MSRP: $249
Active dads will love the Fitbit Ionic. This GPS-enabled smartwatch offers all of the features you'd expect from Fitbit -- activity tracking, sleep monitoring, notifications, etc. -- and includes a GPS so he can track runs more accurately than ever... and recite them back to you more accurately than ever. Just saying -- prepare yourself.
Scroll down for the next article