These Deals Will Get You Outside For The First Time In Decades
This piece was written by the Cracked Shop to tell you about products that are being sold there.
Winter tends to drag even in the best of times. When there's a pandemic going on, winter feels like literal mammalian hibernation, so you're probably peeking your face out into the sunshine like a socially deprived bear right about now. Go on, step outside, you beautiful, awkward grizzly! Get these unique outdoor products at great prices today, and carpe diem or whatever!
Kodak 12Ft Inflatable Outdoor Projector Screen
Outdoor movie night is about to get lit. Literally. This massive inflatable projector screen sets up anywhere (you could even float it, if you're fancy) so you can feel like you're at a drive-in movie minus the knowledge of other people macking just a few precious layers of metal away from you.
MSRP: $89
It's going to go from pleasantly warm to hotter than Satan's gooch out there before you know it, so if you're prone to sweating buckets, arm yourself with this neckband fan. It keeps you cool and just looks like a pair of headphones dangling loosely around your neck, so no one will know you're a sweaty dork.
7-Piece Non-Stick Outdoor Cooking Set
MSRP: $99
Hit the trail armed with everything you need to whip up a tasty campfire dinner. This nonstick cooking set includes a pot, a pan, a kettle, a mug, two sets of utensils, and a net bag to carry it all in, but no one can stop you from carrying one of those pots on your head and calling yourself Captain Crockery.
Pocket Shot Pro Arrow Kit Combo
MSRP: $139
This hardcore kit that is definitely not safe for children evolved out of Pocket Shot's continuing evolution of the slingshot. It comes with a pocket hammer with braces, take-down arrows, pouches, and everything else you need to head out hunting. Seriously, this thing shoots arrows at up to 170 FPS.
GoSun Go(R) Portable Solar Oven
MSRP: $139
We get it. You'd like to go on an outdoor adventure, but where would you get pizza? Fortunately, this solar-powered oven charges during the day so not even the most untamed wilderness can keep you from your beloved saucy friend.
3-in-1 Waterproof Bug Zapper Lantern
MSRP: $49
Light up your campsite, kill bugs, charge devices. What a combo, huh?
Crave PowerPack 2: 50,000mAh Battery Charger
MSRP: $249
Afraid to go outside because your phone battery might die, and you won't be able to Instagram your adventures? Have no fear. This massive portable charger is here to ensure all of your devices have power so you can prove to the world and yourself that you exist no matter where you go.
Costway Patio Folding Camping Table
MSRP: $109
Whether you're setting up for a family barbecue or you just need something to play flip cup on in the backyard, this sturdy folding table has you covered.
GoFish Cam Wireless Underwater Fishing Camera
Fishing is fine, but it's a lot more fun when you can dominate those stupid fish with the power of human technology. This underwater fishing camera helps you do just that by giving you a live view of where the fish are so you can prove why you're at the top of the food chain.
CARSULE Pop-Up Cabin for Your Car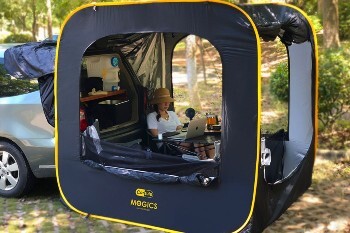 MSRP: $379
See the world from the comfort of your car. This pop-up cabin works independently or as an attachment to your up-swinging tailgate so you can set up a living room out in the wild whenever you want. Sitting on the couch and watching Netflix but also outside? Now that's a vacation.