Ensure Favorite Child Status With These Mother's Day Gifts
This piece was written by the Cracked Shop to tell you about products that are being sold there.
It's nice and maybe healthier to think that sibling rivalries end after childhood, but they don't. They just become more insidious, passive-aggressive, and esoteric. In completely unrelated news, Mother's Day is May 9, so we've rounded up some great gift ideas to show your sibling that you love your mom more than they do. Er, um, show your mom how much you love her. Yeah, that's what we meant.
MSRP: $59
This clever warmer lets you adjust the temperature you want for your cuppa and activates to keep it consistently at that temperature. Mom's coffee or tea will never get cold, and she'll have you to thank. 
Maya J Personalized Item Gift Card Voucher
MSRP: $50
Put the power in mom's hands! With his personalized item voucher, Mom can personalize a piece of jewelry from Oprah's Favorite Things designer, Maya J. If you're really lucky, she'll leave your name off whatever she chooses.
ChronoWatch Multi-Function Smart Watch
MSRP: $199
For the active cool mom, the ChronoWatch will help her track her activity and stay connected while she's out and about. You can even use it to call her, just to remind her who's responsible for her sweet new techie lifestyle.
Bürgi Diamond Sparkle Bracelet Watch with Swarovski Crystals
MSRP: $385
You don't have to tell anyone it's not made of real gold, but this beautiful bracelet watch will make an impression. It features a high-polished case with a gorgeous dotted dial design, and it's got a very cool, foreign-sounding name. Moms love cool foreign stuff.
Aira Facial Steamer (Beige) + Bunny Ear Spa Headband
MSRP: $94
Give your mom the power of a spa treatment on-demand. This facial steamer emits therapeutic steam that hydrates and softens the skin's surface while an ion generator enhances the pore-cleaning process. Just make sure to mention every time you see her from now on how youthful and glowing she looks.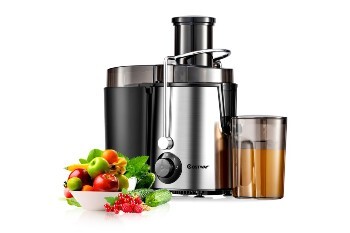 MSRP: $99
If mom is all about juice, she'll love this juicer machine. A wide feeder chute lets you juice an entire apple or pear without cutting it while the two-speed control makes quick work of both juicy fruits and vegetables. After all, your mom has better things to do than chop vegetables, like showing you with affection.
Rose Box(TM) Single Rose Jewelry Box
MSRP: $109
This elegant little box has an everlasting rose in it that's specially treated to last for more than a year. Fill it with some nice jewelry for extra credit.
D24K Anti-Aging Skincare Bundle
MSRP: $930
Sale Price: $119.99
Give mom the ultimate anti-aging skincare bundle without breaking the bank. This extensive collection includes products for daily use, eye care, anti-aging, collagen collection, and more. Not that she needs it, of course.
Rose Box(TM) 4-Rose Jewelry Box
MSRP: $109
Four everlasting roses that will stay fresh for more than a year?! Are you kidding her?! You are not.
Miko Yoisho Shiatsu Foot Massager with Heat & Pressure Settings
What mom doesn't want (and deserve) a nice foot massage? But what child wants to give it? Get yourself off the hook with this compact shiatsu foot massager that provides gentle warmth and steady pressure.
HiMirror Slide Smart Makeup Mirror with LED Lights
MSRP: $299
This portable mirror has two LED light strips that provide crystal clarity while the advanced skin analysis technology will let Mom assess her skin for wrinkles, fine lines, and more. You're really doing your part to keep mom looking 32.
Rose Box(TM) Large White Box & Everlasting Roses
MSRP: $369
Even four everlasting roses not enough for your special lady? Get her an entire hat box stuffed to the brim with roses that will stay fresh for more than a year. Suck on that, siblings.
Scroll down for the next article