12 Things To Make Your Next Outdoor Excursion Much, Much Better
This piece was written by the Cracked Shop to tell you about products that are being sold there.
The weather is getting nicer, which means you might be craving the great outdoors pretty soon, but between the bears, the hawk, the dirt, the cold, the rain, the dark, and myriad other hazards, there's an infinite number of ways to have a bad time outside. We don't want you to have a bad time, so we've rounded up 13 items (on sale) that will help you get back to the safety of your warm, dry, cozy bed in one piece.
Goplus Self Inflating Sleeping Pad
MSRP: $46
Why would you want a sleeping pad that's just a sleeping pad? In this unprecedented era of human luxury, get one that goes above and beyond with this self-inflating pad that also has an integrated pillow. Don't use your bag as a pillow like some kind of peasant.
Costway Adjustable Aluminum Folding Camping Chair
MSRP: $59
Any outdoorsperson worth their salt needs a good, reliable, trusty chair. This could be that chair.
EchoSmile 4-6 Person Pop-Up Tent
MSRP: $228
You might be a rugged individualist who eats bugs and poops freedom, but no one likes setting up a tent. Make life easier on yourself with this ingeniously designed pop-up tent that assembles in minutes and can house four to six people.
Goplus Self-Inflating Camping Mat with Pillows
MSRP: $119
Nothing's worse than laying down to sleep after a hard day on the trail on an extremely uncomfortable camping mat. This cushiony one, fortunately, inflates itself for you so you can just lay down and get comfortable. It even has two pillow bags so you don't have to use your sweaty shirt as a pillow.
Costway Foldable Cornhole Game Set
MSRP: $129
What says springtime more than a good ol' fashioned cornhole set? This foldable set makes it easy to transport to the tailgate, the barbecue, the opera, or anywhere else.
MSRP: $69
Stretch out and get comfortable in the wilds of nature. This inflatable air sofa beats lying down on the ground any day.
Costway Portable 6 Seats Folding Chair Bench
MSRP: $89
After so much time social distancing, who can blame you and your friends for wanting to be close to each other on that first post-vaccination camping trip? This folding bench seats six so you can all get comfy on top of one another.
Costway Portable Pop Up Camping Tent Room
MSRP: $99
Make this tent room into whatever you like. A changing room for mixed company, a private place to put your commode, a screaming chamber when your friends start to get on one another's nerves -- we don't know your life.
7-Piece Non-Stick Outdoor Cooking Set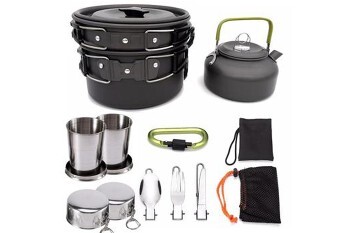 MSRP: $99
Cook like a professional chef on the trail with this awesome non-stick cooking set. It comes with a pot, frying pan, kettle, mug, spoon, fork, knife, and net bag to give you everything you need to turn basic chili into a gourmet meal.
GoSun Go(R) Portable Solar Oven
MSRP: $139
Who says you can't enjoy a roast dinner with all the trimmings just because you're nowhere near electricity? Just strap this ingenious solar-powered oven to your pack as you hike to get it charged up and then whip up a feast that would put a Harry Potter movie to shame. The good ones, not the camping one.
Costway Foldable Camping Table
MSRP: $219
Make the great outdoors your kitchen with this clever portable set. It's a portable stand for your grill, a prep table, and a windscreen storage space to protect the cooked food all in one.
Costway 2 Piece Folding Zero Gravity Reclining Lounge Chairs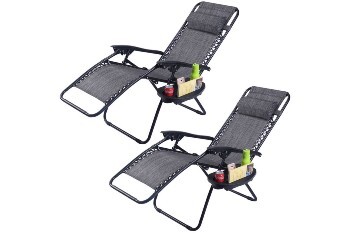 MSRP: $269
Beach, patio, grass -- wherever you want to kick back and relax, these chairs have you covered. You'll let out audible moans of satisfaction when you ease into that recline, and they even have an integrated tray for holding your bevvies. Shrubland, take me away!
Prices subject to change.
Scroll down for more content