This piece was written by the Cracked Shop to tell you about products that are being sold there.
Things are heating up around the country and we don't mean in a sexy way. You're a smart cookie, so we know you're already thinking about ways to beat the heat when it becomes truly unbearable, and we've rounded up some great ways to cool off, all of which are on sale. That's called "teamwork."
Keep It Cool Mini Personal Air Cooler
MSRP: $89
With three fan speeds and a multi-directional air vent, this personal, portable air conditioner cools, humidifies, and purifies the air all around you to tackle whatever nuisance the climate can throw at you. Heat? Chilled. Dryness? Wettened. Smoke? Make sure your detectors work, then breathe easy.
Mini Air Conditioning Cooling Fan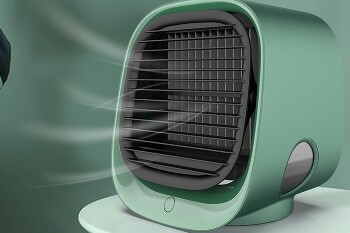 MSRP: $59
This cooling fan may look like an ordinary fan, but it can lower the temperature in your personal space by 3-5 degrees with a strong gust of cool air. It also has three speed options that let you adjust the airflow, from "gentle breeze" to "The Day After Tomorrow."
Nordic Hygge AirChill: Personal Evaporative Cooler
MSRP: $99
This advanced evaporative cooler is a 4-in-1 solution for cooling, humidifying, and purifying your air with a sweet LED to set the ambiance. Hey, it's not called "Hygge" for nothing.
EvaChill EV-500 Personal Air Conditioner
MSRP: $99
This eco-friendly Red Dot Design Award winner features patented EvaBreeze(R) material. We don't know what that means, but we do know that it lowers the air temperature around you just by evaporating the water in its tank. Science, bish!
Cielo Breez Plus Smart A/C Controller
MSRP: $149
Look at those cool cats in the background of that photo. See how cool they are? That's how you'll feel all the time with this Wi-Fi-enabled smart controller designed for ductless air conditioners. Set intelligent triggers, control your AC, reduce your electricity bills, and more. (Matching business casual not included.)
Costway Evaporative Air Cooler
MSRP: $199
Unlike a fan that just circulates the oppressive heat around you like some kind of human-size air fryer, this evaporative cooling fan produces higher wind volume and has the ability to actually lower the air temperature as it blows it around. Just put the included Ice Crystals in according to the instructions and let 'er rip.
Costway Portable Air Conditioner
MSRP: $299
It's R2D2 for cooling temperatures! This multifunctional evaporative air cooler distributes clean, cool air through a non-compressor system that operates extremely efficiently. It's an economical way to cool off your whole house because it will roll around all over the place with you like your own personal droid friend but more useful.