The camera pans up to the girl's cold stare, and she asks, "Any questions?" Then we close on a zoomed-out shot of her standing in the middle of a burnt landscape, yelling the same question as if the radiation poisoning has really started to eat away at her brain.
"Yes. Did you bury your parents in the basement or under the patio?"
People were confused, especially since the ad didn't suggest any policy changes. It simply prompted viewers to visit Cain's site, where they were asked to donate to Cain Solutions (presumably a goldfish support group). Reveling in the public's response to their animal torture, for their next ad, the Cain camp upped their game with a rabbit.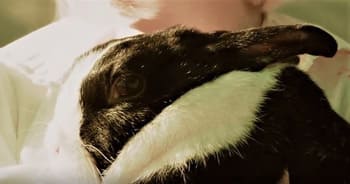 The stakes are higher because it's much more difficult to flush a dead rabbit down the toilet.
The ad begins with the same girl holding a rabbit while saying, "This is small business." She puts the rabbit down before continuing, "This is small business under the current tax code." Then this happens:
Truly, Herman Cain was in touch with regular Americans, who are forever comparing taxes to catapulted rabbits.
The third ad in this series portrays the American taxpayer as a chicken farmer and big government as the chickens he feeds. The chickens soon eat the farmer, even though in the last ad, the taxpayer was the cute animal and the man was The Man. A mixed metaphor like that can ruin such an otherwise-coherent message.