This isn't to say that that cartoon fruit have any true bearing on a movie's quality, but the fact that the critical assessment of the series has fallen from near-universal praise to on par with the movie wherein Will Smith helps Kevin James get laid seems pretty bad.
Casino Royale wasn't just a good movie; it was an attempt to restore some of the more classic elements of Bond while pushing the series in a new direction. It retained Judi Dench's M (a '90s rebuke of Bond's sexism) and recreated Ursula Andress' gratuitous beach scene from Dr. No with the gaze flipped on Bond himself.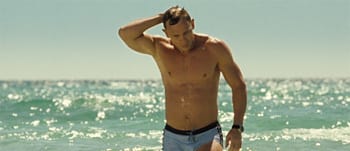 Eon ProductionsAlbeit accidentally.
So what the hell happened? Well, here's one problem with the recent James Bond movies: They never just gave us a damn James Bond movie.
Think about it. Casino Royale was supposed to be an origin story. Like Batman Begins, we were watching this character become the Bond we know. He learns about martinis and gambling, and acquires his license to kill. He also falls in love with Vesper Lynd, only to be betrayed and watch her die, spurring a lifestyle of treating women like absolute garbage for no reason.
And after the entire movie held back on the classic Bond theme, in an almost tantric musical relief, the familiar melody kicks in during the film's final moments, informing audiences that Craig has finally become the Bond we know.
Eon Productions"OH! THAT'S WHO HE IS!"