Aw,
hell
nein.
Although this trend was first brought into public awareness by the blog Grindr Remembers, it began way, way before that. In 2011, the CEO of Grindr was forced to defend budding Hansel Adamses everywhere by arguing that this represented people "coming together as a community (...) to share and inspire others to take part in the memory of the Holocaust," before adding "... and maybe get some hot bratwurst, yeah?" and thrusting himself into the stratosphere.
For legal reasons, we have to point out that he did not in fact say that last part. He also doesn't support the practice nowadays, for some reason.
Grindr
"That ain't reich" -- Hitler's ghost and/or our comments section right now
Seeing as how Berlin is home to an abandoned amusement park littered with dinosaur corpses, these guys clearly suck at Grindr. But at least they were trying to get laid; some jackasses use the memorial to practice their CrossFit. During a layover in the city, a famous CrossFit-doer(?) accidentally used one of the plinths to practice his super-cool handstands. In a world without Instagram, this would have been a case of "no harm, no foul." But it isn't. Instagram never forgets, as it is basically a supercomputer built out of strangers' butts.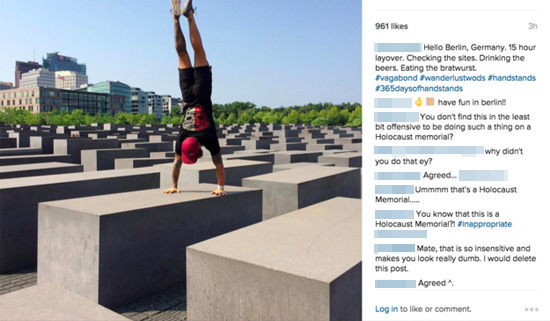 Instagram