Chargers equipment manager Sid Brooks was knocked unconscious by a stray snowbullet and was taken out on a stretcher, which did nothing to calm the army of Calvins in the audience. Two things helped this happen: 1) The Giants had lost about twice as many games as they'd won that year, so there was a general "don't give a crap" sentiment among their fans that day, and 2) perhaps due to a combination of the aforementioned factor and the cold, everyone was drunk as fuck.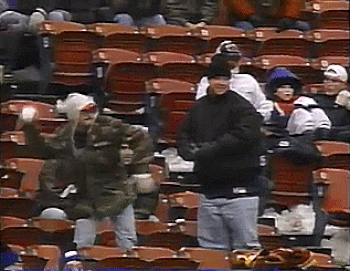 NFL
"Fuck the Red Sox!"
"This is an NFL game."
"So?"
So who won? The Giants were up by a good margin going into the last quarter. But then karma took a casualty of her own, and San Diego managed to beat them by 27-17, probably making local fans feel like they'd been attacking the wrong team the whole time.