To sing along in nonsensical noises that vaguely resemble the lyrics of a song.
When we tell you that the French have a colloquial verb that literally means "to yogurt," odds are your imagination will instantaneously jump to one particular image. We know what you're picturing. It's not that. Hell, you couldn't possibly be more wrong -- it's not breakfast-related at all.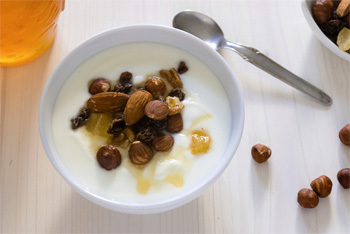 annalisa-/iStock/Getty Images
"Yum, extra nuts."
According to Lucy Wadham, a British novelist who lived in France for nearly a quarter century and wrote a nonfiction book in an attempt to decode Frenchness for her fellow Brits, the French are obsessed with English-language music. So much so that they feel an uncontrollable urge to sing along with it, even if they not only don't know the lyrics, but totally don't know the language that they're singing in. This peculiar pastime is known as "yogurting," and it can send music through such absurd transformations as turning Queen's "I Want to Break Free" into "I Want a Steak Frites." Conversely, it can actually transmogrify "Smells Like Teen Spirit" into the deep social commentary that people always thought it was.
DGC Records
"With the fights trout, I piss dangerous!
Hippy car cow, entertain us!"