So what songwriting hack was available in 1990 to slap together that sad, transparent cash grab?
Michael Jackson.
Here's something cool you probably didn't know about the late Michael Jackson: He loved The Simpsons. If you remember the third season debut, "Stark Raving Dad," you'll probably remember it as that episode where Michael Jackson provides the voice of a huge white mental patient who thinks he's Michael Jackson.
It was probably the most ingenious bit of stunt casting ever, and a pretty bold move for the young show to have the King of Pop on as a guest star. Few knew at the time that Jackson had always been a fan, and longtime Simpsons producer James L. Brooks explained in a DVD commentary how he fielded a call in his office one day from Jackson himself, who proclaimed that he was a huge fan of Bart and wanted to write a No. 1 single for him, which is a little pretentious, but whatever. It's Michael Jackson. "Do the Bartman" is what he came up with.
Looking back, the whole thing is a little weird. It's a rap song, featuring Bart Simpson rapping words written by Michael Jackson, who is not someone necessarily known for his ill rhymes. But who are we to argue? The video was directed by Brad Bird (!), got heavy rotation on MTV, and topped the charts in five other countries. None of whom could have known that the show would still be on the air 23 years later.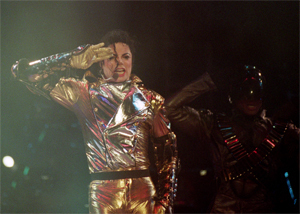 Phil Walter/Getty Images Entertainment/Getty Images
Or that Michael Jackson wouldn't.