This image of what appears to be Anthony Kiedis with Benjamin Button disease tying off a vein in a haunted bathroom is the work of Barnardo's, a U.K.-based nonprofit organization that generates support for kids who suffer from poverty, abuse and sexual assault. They've received numerous complaints over the years for their controversial tactics, but none generated so much hate mail as their "Giving Children Back Their Future" campaign. Possibly because of the whole "baby doing heroin" thing.
The other ads in the series weren't any sunnier -- one showed a small boy about to jump off a building, and another had an infant desperately clawing for a bottle of whiskey, possibly because they'd both just seen a Barnardo's ad. They were attempting to make the point that children who are victims of abuse are much more likely to succumb to self-destructive behavior as they get older and end up drowning themselves in liquor or blasting smack in some AIDS-soaked dungeon.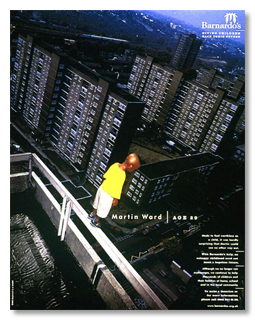 Bartle Bogle Hegarty via Coloribus.com
"We have another one of a toddler installing Windows 8, but it was making people vomit."