Now, when another government gives foreign aid to an impoverished country like Ethiopia, the donor government can set conditions, and enforce them. If you blow the money on weapons to fight your civil war, you don't get any more money.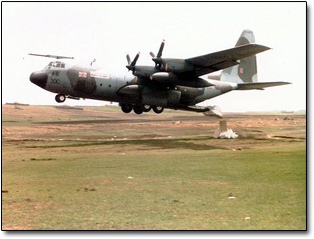 Wikipedia
"Toss the food. We'll break the crates up into cudgels."
But a fundraiser like Live Aid doesn't work that way -- the money is given to non-governmental organizations (NGOs), and in order to do their work, they have to work under, and obey, the bullshit government. In other words, all those piles of well-meaning cash wind up propping up the assholes who helped create the famine. It's like buying Christmas presents for the poor kids down the street, only to see the abusive dad sell them for drug money.
tadias
Before inviting Castro over and shooting the breeze.