Mr. Bloomenstein's words weren't enough to keep the rumors from spreading, however, especially after November of 1998. That's when Tupac released
2pac's Greatest
, a greatest hits compilation that included six new tracks. Record company executives claimed that these tracks were also recorded years before; yet this is contradicted by the timeliness of the lyrics. Tupac makes references to the film
Armageddon
in one track and in another he congratulates the Denver Broncos on winning the Super Bowl - both events taking place well after Shakur was supposedly in the grave. Again, rumors of a massive hoax emerged. Bloomenstein again dismissed the talk as nothing more than rumor mongering.
"This is nothing more than rumor mongering," said Bloomberg. "Tupac was a hard-working, busy musician and the continued release of new material should in no way indicate that Tupac is actually alive and living in South America under the assumed name of Jamal Millwood."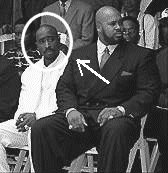 From July 1998. Is that him?
The next few years turned out to be the most prolithic of Tupac's recording career.
Still I Rise (with Outlawz)
hit the scene in December of 1999.
The "Lost" Tapes: Circa 1989
appeared in April of 2000 and
The Rose that Grew from Concrete
came in November of that same year. Tupac recorded tracks for
Suge Knight Represents: Chronic 2000
, a compilation of all of the artists Suge Knight claimed to have killed. He also performed live for an album called
Funkmaster Flex & Big Kap: The Tunnel
. New Tupac tracks then turned up on
Cellblock Compilation: Face Off II
and
Too Gangsta for Radio
, before an album of all-new Tupac tracks,
Until the End of Time
, appeared in 2001.
"I simply wish the public could let Mr. Shakur rest in peace," said Bloomenstein. "Mr. Shakur has actively denied all accusations about still being alive, and he will continue to do so until the day of his, uh... nevermind."
When the album
Better Dayz
appeared in November of 2002, many music critics noted that Tupac had released more albums since his death (seven) than many of the nation's top living artists.