Successful video game franchises go through several iterations, and over time their characters are forced to visually evolve to keep pace with the increased graphic capabilities of the new consoles. As the limitations to character creation change--colors to textures, pixels to polygons--new designers update the appearance of classical game characters as they see them. Oftentimes with positive results: There can be little doubt that the main characters from River City Ransom, for example, were probably not intended to resemble boiled hot dogs with fists and widow's peaks. But sometimes the new visual interpretations get it wrong. By using deductive reasoning and an honest review of the information the games themselves give us, we can figure out how these five classic video game characters were really meant to look, and why (hint: It's because they were all goatshit crazy).
When taking into account both the relative size of its "trunk opening" and the dietary needs required to sustain such a creature's lifestyle, we can deduce both that the Q-Bert is a carnivore, and that its diet is mostly rodents, small-to-medium sized mammals such as rabbits and the occasional young offspring of larger prey animals. In short, the Q-Bert is most likely a carnivorous, earthbound bird-like creature that eats adorable woodland creatures while calling you a motherfucker.
It's commonly assumed that Mega Man was an accurate simuloid of a human, and the rather bizarre, infantile appearance of the robot in the actual games is chalked up to the limited graphic capabilities of yesteryear. But keep in mind that modern-day androids designed only to accomplish one task--to look human--still fail catastrophically at doing so. They always fall into the realm of unsettling disbelief we call "the uncanny valley." For an android of Mega Man's functionality--specifically a hunter/killer of rogue robots--it is unlikely that appearance was a primary consideration; functionality would be valued much higher than the ability to pass as human. Specifically, the functionality to steal other robots weapons and ironically beat them to death with their own devices. Look at the original sprite: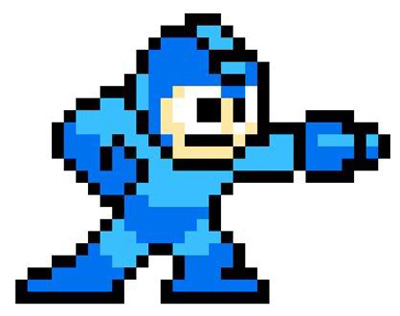 Its facial features are roughly 70 percent eyes. Being a visually oriented hunter, this is clearly a valuable asset. We can also see the relative size of the mouth is greatly exaggerated. This suggests the Mega Man robot was likely powered on some sort of bioreactor, where the gaping mouth would allow the maximum flexibility in consuming energy sources. Look at the size of the energy containers, for example: They are roughly the width of his entire body. In order to consume power-ups like these, the Mega Man must have had the ability to unhinge its jaw, much like a snake, to accommodate the largest possible energy refills.
Please try to avoid picturing Mega Man deep-throating this.
The non-gun hand is often interpreted as a balled fist, but another quick glance at the sprite itself will quickly disprove this theory: The "hand" in question is clearly a tapering shape that bends up and forward, reaching out from the forearm. This "hand" is probably something akin to a lobster-like fleshy claw in actuality. This makes design sense as well, as it would be ideal for crude grappling, and capable of the crushing force a hunter/killer robot would need to pierce armor plating. By looking at the original sprite, one can also see that he apparently has a floppy blue dong on his helmet. The relevance of this last fact is debatable, but just try to unsee it.