What does the Internet love more than anything? No, not disturbing, soul-destroying pornography, silly! It's book reviews obviously! But who has time to read
all that book
just to write a review of it? If the Internet has taught me anything, it's that skimming and randomly guessing at the meaning of things before you fully comprehend them is a perfectly acceptable way to learn. With that in mind, I thought I'd apply these same methods to book reviewing by simply browsing the chapter headings and then putting their teachings into immediate, impulsive, poorly thought-out practice. What's the worst that could happen?
---
Taking Flight: Inspiration and Techniques to Give Your Creative Spirit Wings (Paperback)
By Kelly Rae Roberts (Author)
Review by Robert Brockway
The Publisher's description:
"In Taking Flight, you'll find overflowing inspiration--complete with a kindred spirit in author and mixed-media artist Kelly Rae Roberts. Join her on a fearless journey into the heart of creativity as you test your wings and learn to find the sacred in the ordinary, honor your memories, speak your truth and wrap yourself in the arms of community."
Oh... well, shit. I picked this book because I thought it was a how-to guide on building and maintaining your own wings, like Icarus. But I guess it's more of a spiritual guide. That's probably for the best come to think of it. I
could
use some spiritual help, after all, seeing as how I was planning on using my DIY wings to rob the elderly and spy on hot young college coeds (which I would then also rob). So let us begin...
Chapter 1: Unearthing Buried Dreams
Some dreams stay buried for a reason...
By "unearthing my buried dreams," I assume the author is encouraging me to listen to my inner voice in order to better discover my hidden wants and desires. I'm not going to read any further in order to verify this, so I think it's best to just listen to my "inner voice" immediately, and do whatever it commands. So here goes: "You can do this! You can do anything! Let's get going, man! The world is your oyster! You could paint a picture, or plant a garden. You could finally learn to skateboard. You could have a few drinks to help silence the incessant noise from the screaming masses that prattle ceaselessly to one another yet never seem to say a word. You could become something! You could become something
terrible
. You could become something
terrible and mighty
and you could do much in this world...
to this world
."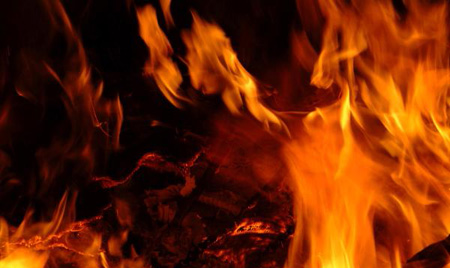 "Birthed of fire I am come, and you may call me...death."
So, OK! That got creepy fast. But I'm taking this seriously, so I guess I'm going to listen to its advice.  Very well, book. But remember, this is on your head. *** I have just killed a man with a lawnmower. I still feel this may have been ill-advised, but I am, after all, just listening to the book. On the down side, I'm only on the first chapter and it's advocated murder. But on the upshot, I can already feel the power of Mr. Stevens's life-force coursing through my veins.
Chapter 2: Facing Your Fears
Facing your fears? Well, I'm afraid of spiders and loneliness. How the hell am I supposed to face those? Wait, I should listen to my inner voice, right? Look at me; applying knowledge! ... The voice tells me that the desert is a place for visions, and an arena for confrontation. The desert is a place of cleansing. If I am to face my fears, I must do it there. But I will need supplies. To this end, I have stolen a lime-green Datsun, and I have loaded the trunk with wild spiders. I leave now for the Southwest, and will continue when I arrive.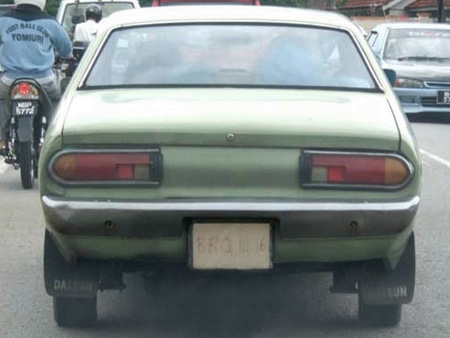 Not pictured: Optional T-Top, chrome trim, luggage rack, spider chamber.
I am alone here. I have not seen another human being for a week. I have ceased speaking aloud and wearing the clothes of man. Every morning, as the hazy sketch of the distant horizon gives birth to the flaming sun, I open the trunk of my Datsun, and I climb into the spider bath. My life is fear and insanity. But it is my fear. My insanity. I have learned to own it. On the eve of the seventh day I kill a wolf and leave my 'little fears' to feed. As I drive away, back towards civilization, the Datsun feels too light without the reassuring weight of 10 thousand spiders. It feels as though it may float away.