Why do we love monsters? Why are we obsessed with vampires, zombies, werewolves, yetis and dragons? It's because no matter how frightening they are, they still symbolize the last bit of mystery and wonder in the world. Well, we here at Cracked would like to murder a few of these mysteries right in front of your eyes, hopefully crushing your sense of wonder into a creamy pulp that tastes good on toast and buffs out scratches on linoleum.
The Montauk Monster Carcass
Pictured: The Kappa, an ancient Japanese water-demon.
A pretty young girl in the prime of her life is frolicking with her female friends on a local beach, when a monster appears! It's a setup good enough kickoff half of the
Friday the 13th
movies, but these young sex-vixens weren't murdered in alphabetical order while the survivors grieve by stripping off their tops and offering to split up, because the so-called "monster" was already dead.
The Montauk Monster
washed up on Ditch Plains Beach in July of 2008, where the aforementioned girls found it, photographed it and sold the pictures to the local paper. Then the Internet got a hold of it and, as usual,
shit got all blown out of proportion
.
The Mystery: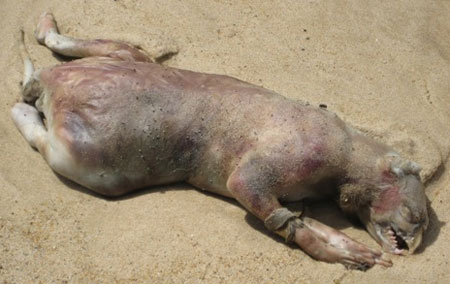 One of the most intriguing aspects of the Montauk Monster was its relative proximity to the Plum Island Animal Disease Center, located just a few miles away. It wasn't exactly a leap to believe that the corpse was some sort of freak experiment gone horribly awry that heartless executives dumped into the ocean rather than burned, because apparently they skipped Biohazard and Covert Experiment Disposal Day at the Evil Workshop. Some argued that it was a genetic abnormality, some stuck by the aforementioned lab experiment theory, while still others (read: us) suggested that it was simply Jabba's pet jerk-monster from
Return of the Jedi
.
Hey, being comedic relief for a mob boss food-monster probably has a high turnover rate--all those long hours, angry Jedi and notoriously poor health insurance plans offered by the Hutts probably take a toll on the little guys--it's not that bizarre to find a corpse or two. Various reasonable theories were lobbed up, and promptly knocked down by animal experts. Lacking an immediate concrete solution, the world assumed it must be a new and undiscovered species. After all, wasn't it Sherlock Holmes who said, "When you eliminate the impossible, the remainder, no matter how improbable, is definitely a monster or at least some kind of magic."?
The Reveal:
It was a raccoon. Though initial arguments insisted that the legs were far too long, proportionally, to match with a raccoon's, actual experts went on record with dental patterns, correlating details on the front paws, and skeletal matches that all pointed to the Montauk Monster being nothing more than a decomposing raccoon carcass missing part of its upper jaw. When asked for clarification, scientists sarcastically asked, "What? You want us to draw you a picture?" Then, noting the slack-jawed, dimwitted stare from the audience, sighed with exasperation and did precisely that: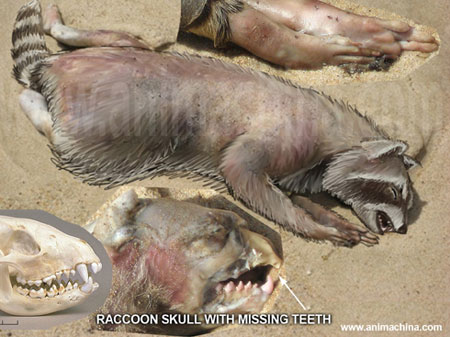 The
Moscow Monster
was supposedly discovered by Russian soldiers on a beach in Sakhalin, Russia. Sakhalin is actually 5,000 miles away from Moscow, but when pressed, most westerners can only name roughly three things about Russia anyway--vodka, communism and Moscow-- so we guess the name just stuck by default.
The Moscow Monster clearly came from the ocean, yet judging by the structure of the bones and teeth, wildlife experts say it's not a fish. It was also clearly not a reptile, as the only match in size would be a crocodile or alligator, which would not only fail to account for the location, but the skeleton is all wrong for that as well. Finally, Big Bird is still alive and teaching four-year-olds about the intrinsic value of "B," so that pretty much does away with all immediately apparent options.
The Mystery:
The corpse was estimated at roughly 20-feet in length, and covered in some bizarre shag material that was not feathers, fur or scales. Adding further intrigue to the mystery, it was reported that Russian Special Services were called in to take the carcass away in secrecy. So we've got government cover-ups in addition to possibly prehistoric beasts: It's the thing
urban legends
are made of.
The Reveal:
It was a beluga whale. All that "it's not a fish, it's not a reptile and it don't got fur" speculation should've tipped you off to the answer: What's not a fish but lives in the water? A fucking whale. What's not feathers, fur, nor scales? Blubber. Whales are mammals, and their skeletal structures reflects that fact. If you're not familiar with whale physiology, you might see a live whale and assume that its skeleton is made up of a "bunch of round," with some "flipper things" on the side. So when a corpse washes up on the beach with what looks like a serpentine tail, articulated hands and a beak, most can be forgiven for assuming it was an uRru tragically felled by the
sinister Skeksis
.
But experts took one quick look at the skeleton, and stated matter-of-factly that it was a beluga whale; there were no ifs, ands or buts - that's just what it was. When pressed for proof, they released a photo of a beluga skull alongside the Moscow Monster skull, then slapped their hands spastically against their chests and sarcastically went "dduuurrrr it a monsterrrrr hur hur."
Because these particular theoretical scientists are total jerks.