When reduced to a bare-bones synopsis, the plot of The Shining is pretty straightforward. Jack Torrance is driven insane by an evil presence at the Overlook Hotel, which compels him to try to kill his innocent wife and child and to repeatedly ax an innocent door. The details of how he gets there, however, are so weird that the Internet has created a miniature cottage industry of fan theories about the movie.
Well, brace yourselves, because I'm about to spring yet another fan theory on you: The "evil presence" in the Overlook Hotel was in fact young Danny Torrance.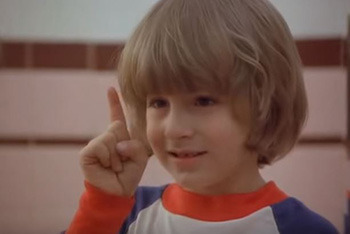 "Present!"
That's right, Jack's not-so-innocent son orchestrated the entire plot of the film, spurred on by one of the oldest motivators in murder history: revenge. Please note that I'm just talking about the movie here, not the book. Stephen King himself has said repeatedly that the two might as well be completely different things.
Now, here are a few reasons Danny Torrance was the real villain of The Shining.
Danny Had Motive, Means, And Opportunity
We're explicitly told in the movie that Jack broke Danny's arm once, and it's implied that wasn't the only time he was physically abusive. How so? Glad you asked!
-- Wendy Torrance's initial explanation of this to a skeptical nurse at the start of the film carries every hallmark of the abused spouse "I ran into a door" cover-up speech.
YouTube
"Sometimes, he just doesn't listen."
-- Jack initially denies that he ever hurt Danny, before reluctantly admitting that he did once (and he gets the chronology wrong -- Wendy says it happened five months ago, while Jack says three years ago), which establishes him as a liar and implies he could be lying about more instances of abuse.
-- Danny shows almost every sign of the psychological impact of child abuse: severe anxiety, hypervigilance, academic problems (dropped out of school), problems connecting with others (he says he has no friends), and flashbacks/visions.
-- When Danny shows up with bruises later on in the film, Wendy immediately accuses Jack of hurting him, despite the fact that kids can get hurt in a million different ways on their own.
-- Also, check out Danny's body language in the one scene where Jack tries to hug him:
YouTube
Awwwwwww.
As far as motive goes, Danny wanting to get revenge on his serial abuser father makes way more sense than the Overlook Hotel just wanting to ruin a random occupant's life for shits and giggles.
We're also shown early on that Danny has superpowers -- specifically, the ability to communicate psychically. My contention is that Danny's powers were far more advanced than he let on, and in fact extended to actual mind control, and that the seclusion of the Overlook Hotel provided him with the perfect opportunity to use these powers to enact his grisly plan, free from the interference of any third party. I'll have more evidence for both of these points later on, but I just wanted to establish them as cornerstone ideas immediately -- the delicious flaky crust covering the homicidal croissant that is this theory.
Like All Psychopaths, Danny

Really

Loves His Mother
In contrast to Jack, Danny and his mother Wendy have genuine affection for one another. They spend lots of time together and have fun, playful interactions. Accordingly, our little Norman Bates is not going to let her come to harm. This is actually the main pillar of my "Danny's psychic powers include mind control" argument. Wendy's continued survival makes no sense unless Danny had mind-controlled Jack to be unable to actually hurt her.
Think about it. Wendy is a rail-thin hysteric who thinks that you hold a baseball bat in the middle ...

This is maddening.
... and yet Jack doesn't lay a single scratch on her during the entire movie. In fact, Wendy manages to actually physically overpower Jack with the aforementioned bat and knock him unconscious -- a feat so unbelievable that the only explanation is supernatural forces. It's like lining up for a bunt and hitting a home run anyway. Even more unbelievable is the ax scene. Sure, it's famous, but do you remember how it ends? Wendy gives Jack a tiny cut on his hand, whereupon he -- having cornered her in a bathroom with no exits, the door already half gone, and still in full possession of the ax -- just decides to wander away, allowing her to escape.

This is the "Wait, really?" face she makes when she realizes Jack has up and left.
Danny implants this "You can't hurt Wendy" command in Jack in an early scene. Under the pretext of getting a toy, Danny leaves Wendy watching TV and goes to their room, where he knows his dad is sleeping. That moment resulted in the awkward hug shown above. Then, apropos of nothing, Danny asks ...

Fingers crossed!
... while he turns that from a question to a command in Jack's mind. Danny's frozen staring straight ahead in this scene. This is important, as the film often intercuts terrifying scenes with shots of Danny staring straight ahead, frozen.
The implication we're supposed to take is that Danny is psychically "reacting" to the terror, but my contention is that he's actually causing it. That's the face he makes when he's controlling people. Like all kids, doing something he thinks is important requires intense concentration. He'd probably make the same face when completing a coloring book, if he wasn't so preoccupied with turning real life into various shades of red.