In the 1600's, violin strings were made by ripping out a sheep's intestines, squeezing the feces out of them like chunky toothpaste, and then doing a bunch of other unsavory stuff that isn't worth any music that's ever been played on the violin. And that guy had it good. Behold, jobs from ages past that make yours look like you're employed as firework tester for Natalie Portman's all-you-can-eat space buffet and sex station.
Job Description:
The Arming Squire was a knight's caddy, personal assistant, and bitch all rolled into one. They'd haul his gear, clean his equipment, clap his coconut halves together, and jot down important dates like the next scheduled battle with the Saxon Hordes.
So Where Does the Poop/Pee Come in?
One of the Arming Squire's main duties (pun definitely intended) was to clean the knight's armor after a battle. Aside from the expected sweat, blood, and stubborn grass stains, this included scooping out and rubbing down the inside of the suit, which, if it had been a particularly long or frightening battle, or if your knight ate bad Mexican food the night before or was a huge dick, often contained a special "overtime bonus." Knights it seems, like astronauts, have more important things to do than locate a toilet when their pants are literally
right there
.
Qualifications:
You passionately desire to serve your country on the front lines of battle, but without all of the glory and heroism.
You possess basic diaper changing ability.
Perks:
If you survive the five year process of running into battles to replace broken armor pieces for your knight, then you get to become a knight yourself and start the whole horrible process over again with some poor sap. Yes, Senior hazing is really that old.
The poop in the armor was traditionally cleaned out with a mix of vinegar, sand, and pee, which anyone would admit is a huge step up.
Job Description:
The Fuller was one of the first people in the process of turning sheared wool into usable cloth. Their job was to take all of the sheep-grease out of the matted bales of fur and turn it into pads of downy soft cotton fluff for later spinning and weaving. Which, aside from the aforementioned sheep-grease, doesn't sound nearly as revolting as it actually is.
So Where Does the Poop/Pee Come in?
The preferred method for removing said by-products from the wool was by soaking it in a giant tub of urine for two hours. And not just any urine, either: two week-old urine giving off ammonia fumes with eyebrow-searing ferocity. And guess what? Those babies couldn't just plain soak; they needed constant mixing to get the job done. So hike up your pantaloons, hop into the vat, and prepare to stomp what may once have been wine. If you throw up in the vat, they dock you. If you stomp too long or not long enough and mess up the wool, they dock you. If you pass out from the fumes and collapse into the vat, you drown in human urine, then they dock you.

Qualifications:
You've watched that one episode of I Love Lucy a thousand times, and every time you wish Ethel would just let loose and flood the vat with mother's own lemonade.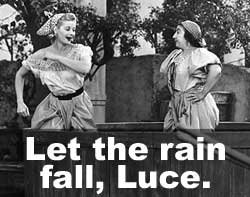 You pee in the bath.
You don't care if hair ever grows on your legs below the knee ever, ever again.
Perks:
You may be knee-deep in old urine and animal grease all day, but at least the prolonged exposure to ammonia fumes will ensure your life is a short one.
Your legs are preemptively guarded against all manner of jellyfish sting.