Marvel just released an MMORPG set within their universe of superheroes, appropriately titled Marvel Heroes, because why screw around with people's expectations. You get to play as one of their famous characters and battle through endless waves of nefarious villains. I picked the Hulk, because after seeing him go apeshit in The Avengers, I don't understand why you would ever pick anyone but the Hulk. However, instead of fulfilling every superheroic daydream of my fat, lonely childhood, the game quickly devolves into a fantasy camp about being the worst Hulk that has ever existed in the history of the planet. Even worse than Ang Lee's Hulk, or Self-Conscious Naked Hulk from the Hulk Hogan sex tape.
There Are a Hundred Other Heroes Who Look Just Like You
Secret Identity Studios/Marvel Entertainment
So now I'm the Incredible Hulk, following in the footsteps of great men like Lou Ferrigno and Eric Bana. It's not something I take lightly, but the world is at stake and I must answer the call. I play through a short prologue mission wherein I attempt to thwart a massive breakout of supervillains from a maximum security prison and am then dropped into the main game hub of Stark Tower, surrounded by all the other players currently online.
Secret Identity Studios/Marvel Entertainment
"... oh."
The very first thing I notice upon my arrival at the Tower is that there are 72 other Hulks, and they're all better than me. Had I known this when I accepted the mantle of justice, I might've selected a different gimmick. The Significant Hulk, perhaps, or the Recognizably Familiar But No Less Incredible Hulk. Or Gamma-Ray Grundlepunch, the groin-hammering super giant with a heart of gold and a temper the bad guys don't want to mess with. Or maybe Spider-Man. But Spider-Man costs extra, so I'm sticking with the Hulk.
Secret Identity Studios/Marvel Entertainment
"One of us is going to have to change, and in all fairness, I was here first."
You Are Feeble for Most of the Game, and the Enemies Are Bizarrely Unbalanced
Secret Identity Studios/Marvel Entertainment
The Hulk is a 10-foot-tall jade Hercules with nuclear muscles. It shouldn't take me more than a stern glance to dispatch a bunch of bandanna-clad city toughs who look like they missed a turn on the way to an extras casting call for Streets of Fire and never found their way back home. However, low-level Mafia enforcers and anonymous gangbangers with guns and chains routinely murder the shit out of me. My superhuman status apparently makes me no less vulnerable to urban decay. I've died on a rancid subway platform more times than Vincent Schiavelli's character in Ghost.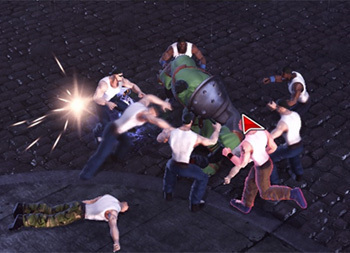 Secret Identity Studios/Marvel Entertainment
And like in Ghost, I will now be slain by muggers.
But two levels later, I'm stalking through the prehistoric jungles of the Savage Land, tossing mutant velociraptors around like empty JOOSE cans and thunderfisting tyrannosaurs directly in their pointy scientific dragon faces with absolutely no problem whatsoever. Nine-story robots, giant gerbils, and rocket-mounted dinosaur heads are met with an equally judicious application of frontier punch justice while the Quad City DJ's "C'mon N' Ride It" plays in a continuous loop on the stereo of my mind.
Secret Identity Studios/Marvel Entertainment
Choo-choo.
That's a wildly inconsistent learning curve. The whole point of meta-human characters like the Avengers is that they have abilities placing them at a considerable advantage over mortal evildoers. That's why they became crime fighters in the first place. Otherwise they'd just sit at home like the rest of us. I'd understand if the dinosaurs gave him trouble, but the Hulk should be able to immediately rip pickpockets and hubcap thieves in half. He shouldn't have to spend five hours honing his goon-shredding skills to gain that ability. If you get bombarded with gamma rays and can't overpower a mugger on Fifth Avenue, you don't have superpowers. You have radiation poisoning.