Written with
Ian Fortey
. Sure, we've all gone on week-long benders and maybe ended up killing a few hobos with our bare hands or bonin' Pamela Anderson. (Not the famous one, the one from accounting. You know, the one with that...
thing?
) But some folks out there just take it to the next level. Some folks get so wasted on their mind-altering substance of choice that to hear their story retold is to be a part of something equal parts horrifying and beautiful, like watching a live birth. Here are the confused, bewildered, most certainly arrested souls that gave birth to our most majestic of benders:
A 19-year-old Nevada man was arrested at the border, when passing motorists called the authorities to report a nude man by the side of the highway. And right there you already see this is about drugs: The words "naked" and "highway" are never used together except in the company of inebriation. But of course, "found naked on a highway" isn't enough to make a list alone; that's barely enough to make a Saturday. When authorities responded, the man fled on foot into a nearby casino (still naked) and when eventually cornered told police rather matter-of-factly that he was "
a Terminator sent from the future
."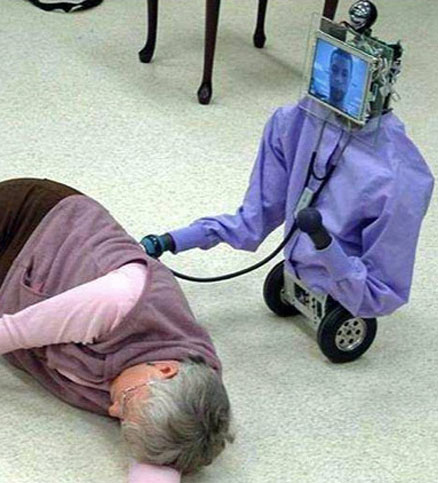 Real robots from the future don't run, they just punch you mercilessly in the spine.
It is at this point that I would like to suggest this man be crowned God-King of excuses, because that is a goddamn good one. We all know, thanks to the
Terminator
mythos, that clothes cannot be transported back in time. That explains the nudity. And one cannot tell a Terminator from a human being, so there's no way to immediately disprove his claims. Finally, if you even suspect that something is a Terminator, the last thing you want to do is arrest it. So in a perfect world, this is the kind of idyllic excuse that would win the Lie Oscars. It fits every criteria of the situation, negates every negative consequence of said situation and is also just goddamn funny. However, because this is not a perfect world, he was sadly snubbed by the
Academy of Awesome Hail Mary Untruths
, and instead was awarded several Tasings... in front of a group of school children there for a field trip.
Authorities say the man had large amounts of LSD and marijuana in his system, which creates a quandary for me: Did he manage to think up the best excuse ever while naked on the freeway on LSD, or was this a very detailed, genre-specific acid trip and the entire reason he was naked on the highway was due to said
Terminator
Theology?
See? They really are oddly spine-focused robots, in the future.
Because if the former is true, this man deserves the slowest of slow claps, but if it's the latter, then this is the most effective anti-drug ad I have ever heard: This guy dropped acid thinking, at most, he's gonna see some sweet tracers and maybe figure out what
Wings
was
really
all about. So he flips over to TNT (where
The Terminator is
always, always on)--cut to two hours later,  and Mrs. Warwick's fifth grade class is doing research on the variable speed of ball spasms in reaction to electric stimulation. Wait... why the hell did you bring children to a casino for a field trip, Mrs. Warwick? You are not a very good teacher.
The Four-Year-Old Who Stole Christmas
Nothing is quite so heartwarming as a child at Christmas; the holiday is just tailor made for the little tykes. And what could be more adorable than a four-year-old boy... drunk off his ass, wearing a dress and committing a few felonies for the holidays? The answer is that same four-year-old playing a rockin' drum solo. But that would never happen. That's silly. Just a silly, silly dream (for now). Little Hayden Wright, perhaps exhausted after a long week of playing at daycare, fed up with his old lady nagging at him and generally feeling beat down by the drudgery of life, decided he needed to kick back with an ice cold Bud. Happens to the best of us.
"That's what I love about these preschool girls, man. I get older, they stay the same age."
Now where the four-year-old mind parts ways from most adults is in the execution of the ensuing bender: Many of us would happily sit in our gitch and watch
SpongeBob
for the rest of the day, punch out the mailman, hug the dog and cry. That'd be cool. But Hayden decided to
roadtrip it
Hunter S. Thompson style. Sometime around 1 AM, he left home behind and took his beer out into the world. He wandered down the street in the middle of the night and rang a neighbor's doorbell who, upon seeing a four-year-old drinking beer in the wee hours of the morning did what any of us would do. He sent him on his way. Hey, last thing you need is a drunken toddler fuckin' up your place in the middle of the night. I mean, can you imagine? Going on about how that slut Dora won't explore anything new anymore and then puking on the coffee table. Who needs that hassle? So Hayden went to the next house and, finding they'd left their door unlocked, taught them why you shouldn't leave your door unlocked. He ransacked their Christmas presents, including stealing a brown dress which he was wearing when police finally found him.
Pictured: Hayden Wright, Sr.
Cops took the little wino to the hospital where he had his stomach pumped and presumably he swore he'd never drink again (but you know he was hitting the bottle again the next day). Mom eventually showed up with a pantload of excuses about how his dad is in prison and he just  wanted to go see him, none of which even broach how confounding it must have been for cops to roll up at nearly 2 AM and see a four-year-old boy in a dress with a beer. This is easily the greatest Christmas story I've ever heard and should be retold throughout the ages. It may even deserve its own claymation Christmas special. It really has everything: a felonious absentee father, cross dressing, irresponsible parents, irresponsible neighbors, several misdemeanors, a tall boy, a B&E and stomach pumping. If that's not the spirit of the season then Jesus has been hiding all those eggs in vain.