Skynet. That's one of the first places our minds go when we think of artificial intelligence. Even Google, which has heavily invested in AI, is developing an off switch in case a futuristic AI-enabled blender goes berserk and turns a family into a protein shake. There is a real subtext of creepiness to every new development, even when the methods used to make these advancements sound like the ideas of stoned 13-year-olds. There are so many labs making AI programs which do stupid, embarrassing things that artificially intelligent beings of the future will look back on with the same shame you do when you see pictures of yourself as a kid.

Your hair scared away sexy, which is why you wrote a song celebrating its triumphant return.
Exactly what kinds of dumb but disconcerting things are we teaching AI to do? Well, how about ...
Making AI Watch

Desperate Housewives

And YouTube Videos
In most cases, researchers aren't teaching AI to do something. They're teaching it how to teach itself to do something. Like how researchers at MIT are making an algorithm watch hundreds of hours of YouTube videos and shows like The Office, The Big Bang Theory, and Desperate Housewives (among others) in an apparent attempt to convince it that it's unemployed but still has its ex-girlfriend's Netflix login. Their goal is to get the AI to accurately predict how people will greet each other one second before it happens.
By making the algorithm watch 600 hours of footage, all the researchers are doing is turning it into the friend who's undeservedly proud when their predictions of an easily-predictable movie come true. "Those two dudes look like they're going to shake han-AHH THEY DID IT, TOLD YOU!" That AI thinks it's so smart because people on TV aren't wildcards disrupting the world of greetings by smearing pudding on each other's faces or slapping together baby crocodiles. We shake hands, we kiss, we high-five, we hug. If you're doing anything else, you're overthinking it.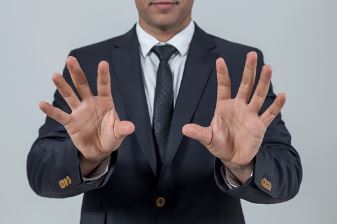 bymuratdeniz/iStock/Getty Images
"BACK OFF, ALLEN. NO ONE DOES THAT."
Congrats, MIT's TV-watching algorithm. You've learned how to choose one thing from a list of four! Keep this up, and soon you'll be able to read a Choose Your Own Adventure book without frying out in a brilliant shower of sparks.
But When You Think About It ...
... maybe it is just a little weird that it nails the prediction 43 percent of the time. How many times have you messed up a handshake so severely that you felt like running away to live in the woods with nary a hand to shake? This algorithm will keep improving, and soon it could one day predict the most likely directions we'd run when in danger, or which body movements mean a human is reaching for its off button. Why can some people effortlessly dodge attacks in a video game like Dark Souls? How can video game speed runners race through difficult Super Mario World levels in record time? Easy: They're exploiting observed patterns. One day, an AI might observe enough of ours to make the switch to hunting us down for sport.
Teaching AI To Be An Annoying Roommate
Cornell and Stanford University
Look, people make mistakes, alright? Sometimes we leave the fridge open for a bit when we should have closed it. Sometimes we leave the milk out. Doesn't mean we need an artificially intelligent sentry who will bust our ass when we don't comply with basic kitchen decorum.
Orion Pictures
"PLEASE PUT BACK THE FUNYUNS. YOU HAVE 20 SECONDS TO COMPLY"
With only an Xbox Kinect sensor, a laser pointer, and a camera, a bunch of smartypants-types from Cornell and Stanford University have created a neural network version of Felix Unger from The Odd Couple -- a persnickety machine brain that rats on people who fail to fulfill simple household responsibilities. It's called Watch-Bot, and it's a real asshole.
Using whatever "probabilistic learning models" are, Watch-Bot records everything that happens in the area it's placed. For initial experiments, it was set up in a kitchen and an office. It recorded and analyzed 458 videos of people moving in and of its field of view, with some people purposefully misplacing objects. It knew what object was out of place 60 percent of the time. But Watch-Bot wouldn't be the most perfect autonomous cybernetic asshole ever if it didn't "Um, excuse me, but ..." every time you messed up.
The laser pointer is there so Watch-Bot can point out exactly what you're doing wrong at that moment. Leave the milk on the counter? Watch-Bot draws a sniper red dot on you. Stupid thing is already making threats.
But When You Think About It ...
Watch-Bot has no idea what it's looking at. It doesn't know what milk is, or that it can go bad if left out. Let's say you move a small plant on a kitchen windowsill so it can get sun. Watch-Bot doesn't know why you did that. Watch-Bot confused. Watch-Bot no understand concept of nourishment for living. Watch-Bot is the ultimate judge, for better or worse. All it knows is the cold letter of the law. It doesn't understand motive. It can't be talked to or reasoned with. Watch-Bot does not give a shit why, for example, you are out after the curfew mandated by Supreme Lord Trump.